Vita e Pensiero
Religiosity and school integration among italian and non-italian students. Results from a survey in multi-ethnic classrooms
digital
formato:

Articolo

| STUDI DI SOCIOLOGIA - 2019 - 2
The paper investigates the role of religion among a group of adolescents (11-15-year-old) surveyed in Italian multicultural schools. The multicultural classrooms (with over 30% of pupils with ethnic background) may be interpreted as social spaces for inter-ethnic coexistence, open to ethnic and religious diversity. We rely on a sample of 1,040 students enrolled in lower secondary education in Lombardy in 2011 on which we investigate religiosity, conceptualized as consisting of religious belonging and religious practice...
Un ponte per…: l'associazionismo internazionale in Toscana tra cooperazione e solidarietà
digital In the history of Italian associations, the field engaged in the international dimension has been and still represents today, from the height of over forty years of life, one of the sectors with the longest operating experience...
La laicità è ancora un valore? L'illuminismo alla prova del relativismo
digital By critically recovering Peter Berger's analysis, this article proposes some considerations around the wide theme of the pluralism of cultural and religious identities in contemporary western society...
Ridefinire il ruolo dell'insegnante in relazione alla povertà educativa
digital
In last years, educational poverty, in Italy, has significantly involved the new generations. The phenomenon shows its complexity, in a play of lights and shadows, starting from the school pathways of young people, and involving family, through its central role in the young's motivation process, and teacher, significant adult in the dynamics of the training process...
La rivincita della prossimità nella cosiddetta società senza luoghi
digital
The article analyzes spatial proximity, understood as the dimension of the city that can influence not only the quality of life of individuals, but also the attractiveness and economic competitiveness of urban systems. The great spread of new digital technologies has changed the way of conceptualizing the city and has led sociologists to believe in the elimination of physical proximity constraints, also due to the progressive fragmentation of public space...
Analisi d'opere - Articolo 5
digital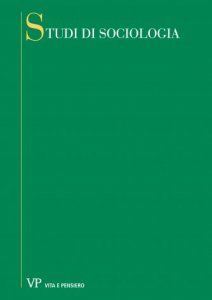 formato:

Articolo

| STUDI DI SOCIOLOGIA - 1963 - 1
Analisi d'opere - Articolo 6
digital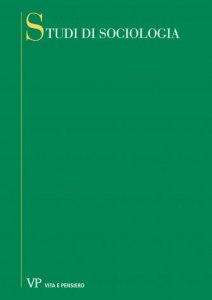 formato:

Articolo

| STUDI DI SOCIOLOGIA - 1963 - 1
Analisi d'opere - Articolo 7
digital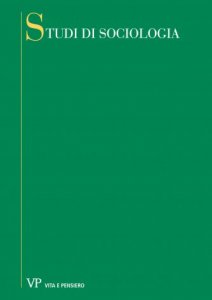 formato:

Articolo

| STUDI DI SOCIOLOGIA - 1963 - 1
Analisi d'opere - Articolo 8
digital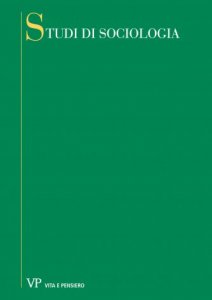 formato:

Articolo

| STUDI DI SOCIOLOGIA - 1963 - 1
Analisi d'opere - Articolo 9
digital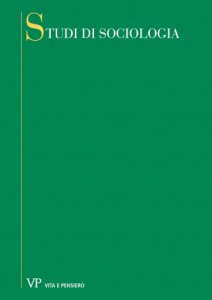 formato:

Articolo

| STUDI DI SOCIOLOGIA - 1963 - 1
Analisi d'opere - Articolo 10
digital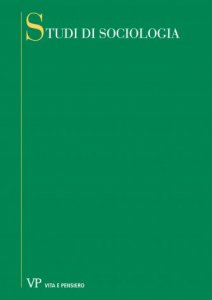 formato:

Articolo

| STUDI DI SOCIOLOGIA - 1963 - 1
Analisi d'opere - Articolo 11
digital
formato:

Articolo

| STUDI DI SOCIOLOGIA - 1963 - 1
Consulta l'archivio
Ultimi 3 numeri
Annate disponibili online
Fascicoli anno
2021