Matteo Moscatelli
Libri dell'autore
L'impatto familiare delle politiche del governo durante la pandemia di covid-19 in Italia: le famiglie chiedono sussidiarietà?
novità
digital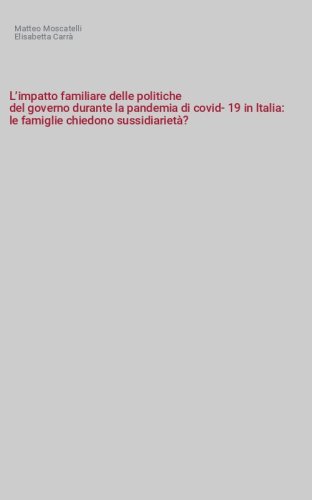 formato:

Articolo

| STUDI DI SOCIOLOGIA
| Online First
The emergency caused by the Covid-19 pandemic has led the Italian government to run the risk of strengthening the still too-widespread welfare regime that delegates to families the answers to social needs, taking for granted their willingness to do so. Through data from the first wave of a longitudinal research project entitled "The family at the time of Covid-19" (N = 2985), it has been possible to highlight a certain disagreement on the capacity of the government to support families effectively during the most critical period of the pandemic in Italy (March-April 2020), despite entrusting them with several crucial tasks and functions...
Consulta l'archivio
Ultimi 3 numeri
Annate disponibili online
Fascicoli anno
2020