Vita e Pensiero
Youth on discrimination: a platform for self-expression through the photovoice
digital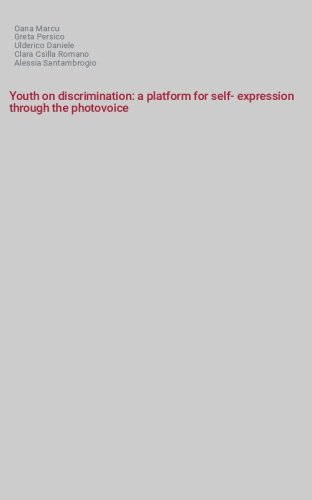 formato:

Articolo

| STUDI DI SOCIOLOGIA
| Online First
Within the European project Story_S, supporting successful educational paths for Roma youth through peer to peer education, a participatory anti-discrimination campaign was built with young people of different backgrounds, in Milan and Rome. An intersectional approach is proposed to reflect together with young students on the topic of discrimination and to build, through the photovoice, a photographic campaign addressed to their peers...
STUDI DI SOCIOLOGIA - 2019 - 4
digital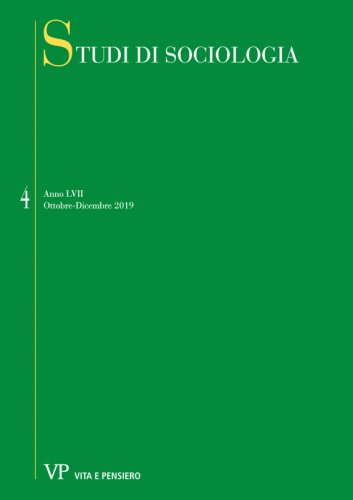 formato:

Fascicolo digitale

Quarto fascicolo del 2019
Sommario generale dell'annata
digital
formato:

Articolo

| STUDI DI SOCIOLOGIA - 2019 - 4
Compulsory voting. Does a massive electoral turnout encourage a social duty or the «donkey-vote»?
digital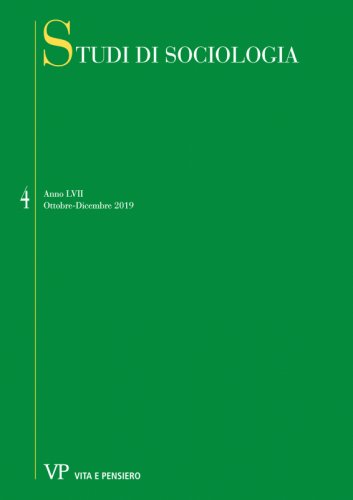 formato:

Articolo

| STUDI DI SOCIOLOGIA - 2019 - 4
This paper is focused on the problem of «compulsory voting» inside the contemporary democracies. The research demand is: is there a relation between compulsory vote and the possibility to increase the electoral turnout for citizens more and more detached from politics in many countries (to strengthen the sentiment of civic duty)?
Dominazione come espropriazione. Un'ipotesi per il rilancio della teoria critica
digital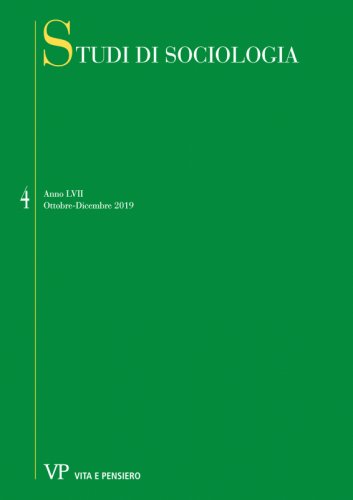 formato:

Articolo

| STUDI DI SOCIOLOGIA - 2019 - 4
To re-launch critical theory, according to some of its major contemporary exponents, domination needs to be redefined. The hypothesis this article explores is to consider domination as expropriation in action. The category of expropriation offers to critics a double anchorage: to action, on the one hand, and to principles of justice, on the other, which are the common denominator to some of the most well-known theories of contemporary justice: a common humanity, a common dignity of people, autonomy of the individual, the individual as an end in itself and the uniqueness of the individual...
L'attore sociale non è un attore sociale: note su Bourdieu e Garfinkel
digital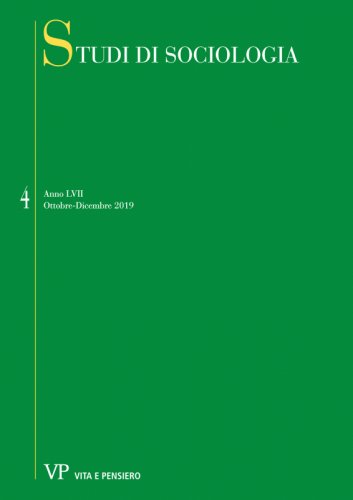 formato:

Articolo

| STUDI DI SOCIOLOGIA - 2019 - 4
There is a general agreement among critics and readers that the works of Pierre Bourdieu and Harold Garfinkel are to be regarded as incommensurably different in many respects, and in fact a substantive divergence between them has been expressed even during a face-to-face meeting by the interested parties. On this background, this essay intends to go against the grain, with the aim of reconsidering certain profound similarities that nevertheless seem to exist between the sociological approaches of the two authors under discussion...
La napoletanità nella reality television. Pratiche di etnicizzazione prêt-à-porter
digital
formato:

Articolo

| STUDI DI SOCIOLOGIA - 2019 - 4
The author analyzes the production of discourses on Naples, tracking down the origins of the stereotypes of ethnicization of this town and of Southern Italy in general, within the practices of biological inferiorization established by the Italian Criminal Anthropology in the late 1800s. She compares them with the narrative stereotypes of Neapolitans, restated in discourses and prêt-à-porter images «packaged» for the large audience of reality television...
Le Social Street come forme di ordinaria azione civica: prospettive di ricerca
digital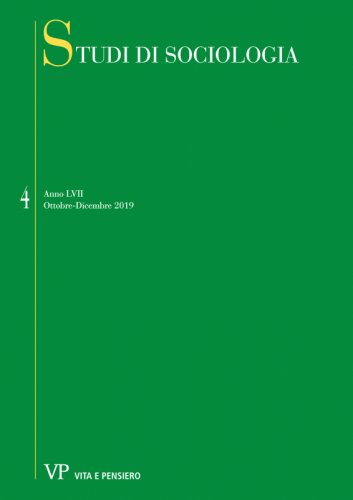 formato:

Articolo

| STUDI DI SOCIOLOGIA - 2019 - 4
Le Social Street vengono definite come «strade nelle quali i vicini di casa vogliono creare o ricreare socialità di prossimità, usando come strumento di comunicazione facebook» (Pasqualini 2016). Il fenomeno delle Social Street non è stato oggetto di numerose ricerche, con l'eccezione degli studi interessati all'impatto delle tecnologie e delle piattaforme digitali. La ricerca su questo fenomeno, sia a livello locale che internazionale, ha permesso di osservare la diffusione delle Social Street nei contesti urbani. Le Social Street sono inclusive e potenzialmente accessibili a chiunque, e sono inoltre capaci di creare innovazione tecnologica e sociale. Creano controllo sociale, si occupano dell'informazione nel quartiere e partecipano agli eventi promossi nel vicinato, promuovono la socialità e si prendono cura dei beni comuni della città, specialmente nel contesto di prossimità. Nella prospettiva avanzata da questo studio, le Social Street sembrano rappresentare una forma locale di civic collective action. In questo articolo ci si sofferma su tre casi studio: Milano, Bologna e Roma, mostrando caratteristiche simili e differenze nelle attività promosse e nella diffusione del fenomeno.
Il lavoro degli assistenti sociali con adulti e anziani non-autosufficienti: una ricerca esplorativa sugli interventi ben riusciti
digital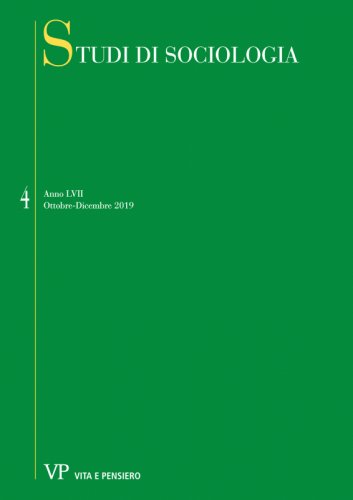 formato:

Articolo

| STUDI DI SOCIOLOGIA - 2019 - 4
Gerontological social work is a working area that engages many social workers, however there are few studies that highlight its characteristics. Often it is represented by students and professionals as not very interesting and connected exclusively to the provision of standard services...
STUDI DI SOCIOLOGIA. Abbonamento annuale 2020. Privati Italia carta + web
digital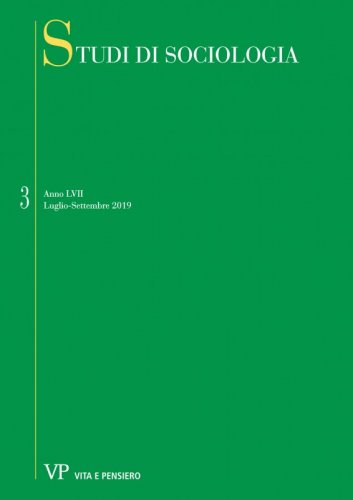 formato:

Abbonamento cartaceo + digitale
| editore: Vita e Pensiero
| anno: 2020
Abbonamento annuale alla rivista STUDI DI SOCIOLOGIA
STUDI DI SOCIOLOGIA - 2019 - 3
digital
formato:

Fascicolo digitale

Terzo fascicolo del 2019
Analisi d'opere (on line)
digital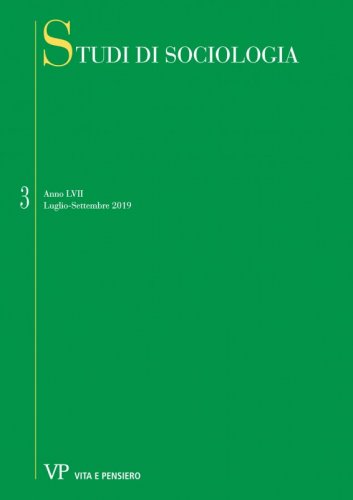 formato:

Articolo

| STUDI DI SOCIOLOGIA - 2019 - 3
Consulta l'archivio
Ultimi 3 numeri
Annate disponibili online
Fascicoli anno
2021