Maddalena Colombo
Titoli dell'autore
Religiosity and school integration among italian and non-italian students. Results from a survey in multi-ethnic classrooms
digital
formato:

Articolo

| STUDI DI SOCIOLOGIA - 2019 - 2
The paper investigates the role of religion among a group of adolescents (11-15-year-old) surveyed in Italian multicultural schools. The multicultural classrooms (with over 30% of pupils with ethnic background) may be interpreted as social spaces for inter-ethnic coexistence, open to ethnic and religious diversity. We rely on a sample of 1,040 students enrolled in lower secondary education in Lombardy in 2011 on which we investigate religiosity, conceptualized as consisting of religious belonging and religious practice...
Alunni anticipatari e de-standardizzazione del ciclo scolastico: una nuova politica per l'infanzia?
digital

formato:

Articolo

| STUDI DI SOCIOLOGIA - 2014 - 1
In application of the Italian Law 30/2003, since s.y. 2003/04, parents can opt to enroll their children in the first year of nursery and primary school in accordance with more flexible age requirements...
Sogni di genere. Disuguaglianze e risorse nel futuro immaginato degli adolescenti
digital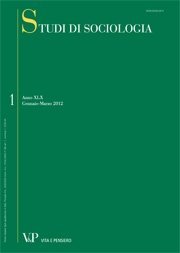 formato:

Articolo

| STUDI DI SOCIOLOGIA - 2012 - 1
M. Colombo, Gender's dreams. Inequalities and resources in the imagined future of the teenagers What and how do adolescents make dreams about their future? How much are they prepared to social competition? Are they aware of gender inequalities and differences operating within the system of choices? Do they exploit these differences for reaching their targets? Through the data set of a national enquiry «Prin 2005 – Adolescents and Life chance», this essays makes distinctions between the «female» and the «male» way to live the present as a condition and a preview of the future, also underlining the existence of gendered resources to imagine the future itself. If nowadays adolescents live in a frame of increasing «de-differentiation» (boys and girls having same targets, similar psychological states, and tacitly agree with the issue of gender parity), with no doubt they are greatly influenced by discriminating rules and mechanism of the system of chances. Girls are requested of a long-time commitment until the graduation in order to obtain security and personal realization. Boys instead are requested to make projects of work, earning and professional career, with a short-term life planning, in order to overtake the «test of future». At the present, girls and boys live together and exchange continuously their visions in a sort of coeducation: material and cultural consumption are the features of the female-side, large network of relations and distance from institutions of the male-side. Key words: gender differentiation, educational choices, orientation towards future, gendered patterns of life planning, gender inequalities.
Conseguenze non previste e apprendimento professionale: insegnanti riflessivi tra ambivalenza e lavoro cognitivo
digital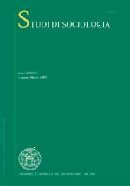 formato:

Articolo

| STUDI DI SOCIOLOGIA - 2007 - 3
Within school establishments is almost frequent that one is involved in conflictual situations and interactions and in unanticipated developments which challenge the actor's rationality and lead to innovative learning outcomes for the professional himself. Aim of this essay is to analyse such learning outcomes which grow up in professional situations full of ambiguity, contraddiction, ambivalence, in order to examine the role of teacher as a reflective practitioner. We assume that teachers, as other knowledge workers, are not able to became reflective practitioner in every situations, but they do it only under given conditions. The essay starts from the description of some study cases (teachers coping with unanticipated learning outcomes); deals with the concept of sociological ambivalence in R.K. Merton, and moves to an interpretation of the empirical cases by applying a model, in order to verify what kind of "oscillation" strategies teachers are able to use for balancing opposite values at stake (tradition/innovation; ripetition/variability, etc.).
Senso e non senso della scuola tra istituzione e organizzazione
digital
formato:

Articolo

| STUDI DI SOCIOLOGIA - 2006 - 1
This article analyses the current relaity of schooling, highlighting some of the major changing factors: factors of turbolence (i.e. the reform processes) and negative attitudes towards the change, expressed by teachers, headmasters, parents and extra-school agencies); processes of de-structuration of the institutional stability; processes of fragmentation and lost of motivation within the social actors within the school establishments. It follows the interpretation of this frame on the base of the ambivalence "institution versus organisation", that can explain part of this increasing complexity. Finally, to cope with the complexity it is proposed a model of solution as process of "institutionalization bottom-up", based on th sense making capability of the social actors in school.
Differenze di genere nella formazione
digital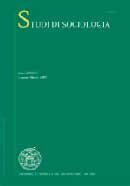 formato:

Articolo

| STUDI DI SOCIOLOGIA - 2003 - 1
This essay is focused on gender differentiation processes in education, with specific regards to the issue of inequality in educational attainment. After a brief review of the main sociological approaches (functionalism and conflictualism), the article moves to describe recent findings on the issue emerging from field studies, both in developed and developing countries. Then it considers how socialization processes are affected by gender stereotypes, mainly through the adult-child interaction and pair group dynamics. Some basic differences between females and males in scholarship are underlined, such as, the higher attainment scores achieved by females, the higher levels of attention reserved from teachers to male students; the persistence of sexism expressions in pair relations at school. A rising issue is put under focus by interactionist approach: everyday practices in teaching and learning usually do not take into account the student's and the teacher's gender. In addition to that, there is a new challenge emerging from globalization and pluralization processes: the combination between gender and ethnical differences will create new agents and new issues in educational resources distribution. A short look to recent inquires shows as foreign students are now facing both inequality (like gender-race gap) and differentiation dynamics (like diversity in motivation for studying).
Ricerca sociale interculturale e limiti dell'etnocentrismo
digital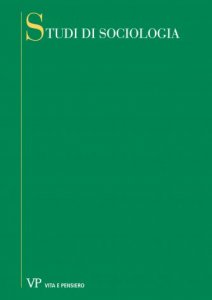 formato:

Articolo

| STUDI DI SOCIOLOGIA - 2001 - 1
La mobilitazione ambientale. Comitatismo e associazionismo nell'area genovese
digital
formato:

Articolo

| STUDI DI SOCIOLOGIA - 1999 - 1
Il gruppo come strumento di ricerca sociale: dalla comunità al focus group
digital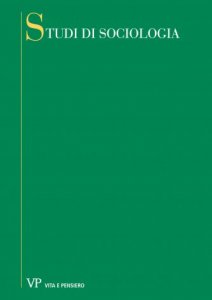 formato:

Articolo

| STUDI DI SOCIOLOGIA - 1997 - 2
Tempo, spazio e informazione nella città mobile. L'innovazione nelle stazioni ferroviarie
digital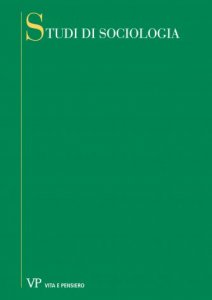 formato:

Articolo

| STUDI DI SOCIOLOGIA - 1997 - 1
Comunicazione e informazione ambientale
digital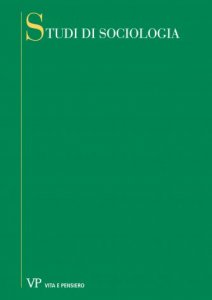 formato:

Articolo

| STUDI DI SOCIOLOGIA - 1994 - 2
Il sociologo valutatore. Note in margine al seminario su «le metodologie di valutazione» (roma, 15-16 giugno 1992)
digital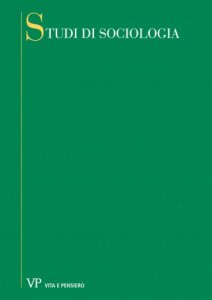 formato:

Articolo

| STUDI DI SOCIOLOGIA - 1992 - 2
Consulta l'archivio
Ultimi 3 numeri
Annate disponibili online
Fascicoli anno
2022