Vita e Pensiero
Manager, bracconieri e jazzisti: l'esperienza del tempo e del ritmo nell'era della comunicazione digitale
digital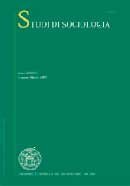 The rise of the network society and the digitalization of communication processes changed modern experience of time and rhythm; notwithstanding a lot of theories account timeless time, real time and network time as a consistent and typical kind of temporality of internet and mobile communication devices, forcing our everyday experience of time and rhythm in a very deterministic way, technical affordances, cultural forms and users' practices describe a more complex, pluralistic and flexible kind of temporality. Users' everyday practices of CMC and ICT look like a jazz performance, that includes qualities such as «swinging», improvising, group interaction, developing an «individual voice» on the basis of their social position, habitus and moral economy. Key words: time, rhythm, communication, internet, mobility.
Fuori dall'ombra delle forme. Memoria della Resistenza e commemorazioni conflittuali
digital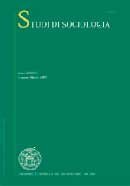 The sociological analysis of the commemorative practices represents nowadays a well defined branch of research into the wide and many sided fragmented area of memory studies. Much of the work conducted in this field has followed the path traced by Emile Durkheim theory. Nevertheless, in the course of the last two decades, scholars have tried to move away from the Durkheimian orthodoxy in order to find more appropriate ways to account for the complex variety of the commemorative universes. The most valuable efforts conducted in this direction are represented by the concept of multivocal commemoration elaborated by R. Wagner-Pacifici and B. Schwartz, and by the concept of fragmented commemoration, developed by V. Vinitzky-Seroussi. Drawing on some empirical stimuli provided by an on-going research on the commemoration of the partisan victims of a massacre perpetrated in the village of Cornalba (northern Italy) by a fascist militia, our paper tries to show that multivocal and fragmented types of commemoration don't fulfill the typology. In our opinion there is still room for another kind of commemorative rite that we would define conflicting commemoration. That is a specific kind of ritual that witness the emergence, during its own execution, of two or more conflicting representations of the same past that it tries to commemorate. In describing this kind of commemoration, we argue that it is more likely to show up in societies marked by pasts of deep social divisions, where a full reconciliation is still not accomplished. Key-words: memory, difficult pasts, commemoration practices, italian resistance, reconciliation.
Il linguaggio verbale nel teatro: le parole prendono forma nel ritmo e nel tempo-ritmo
digital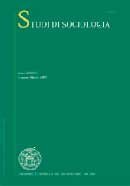 The words «rhythm» and «time» define two important characteristics of psychomotion, but they are, at the same time, two significant aspects of theatrical communication languages. They give sense and significance to the body and image, to movement and sound, and they allow theatre, where actors use all these means of expression, to be heard and understood. The theatre SUMMARIES 341 makes sense just through a rhythmic score, a gesture, a short series of words or a music, and it can show that hidden whole composed by motivation and emotion, that the performers has turned into an understandable form of expression that can be seen or heard; for example, the feeling of happiness will have a fast and intense rhythm, which will produce a series of quick and light movements and will characterize in the same way the verbal language too. To assert that a feeling has its own rhythm we have to analyse our heartbeat and our breath, that are our so-called «natural rhythms», when that particular emotional state occurs. Every human being has his own «natural rhythms», that characterize the way he thinks and moves, for example the way he raises his arm, he walks, he works or he organizes his own time. Key-words: time, rhythm, theatre, communication, emotion.
Analisi d'opere
digital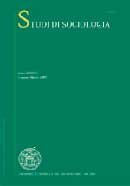 Sommario generale dell'annata
Gratis
digital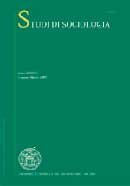 STUDI DI SOCIOLOGIA - 2011 - 1
digital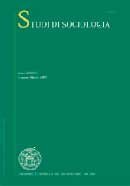 Analisi d'opere
digital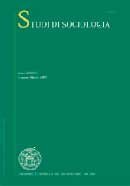 STUDI DI SOCIOLOGIA - 2011 - 2
digital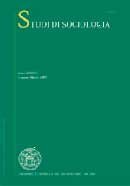 Ricerca sociale applicata e policy making: una pluralità di approcci metodologici
digital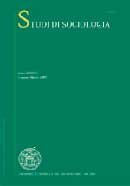 L. MAURI, Applied Social Research and Policy Making: multiple methodological approaches This contribution deals with the cognitive and methodological issues that involve applied social research in its relation with policy design and political decision making, showing some exemplifications of empirical options considered effective to produce good knowledge for facing social changes and all the new needs and questions it produces. In this prospective, surpassing the dichotomy within «academic research» and «applied research», the essay on one hand wants to focus on the techniques and tools addressed to improve a knowledge-based decision making in the field of welfare policies and on the other hand to discuss the role and the ethical commitment of social researchers in the policy community, their responsibility in contributing of the best «social organization of future». Key words: social research, social survey, indicators, customer satisfaction, social design, methodology.
L'uso delle reti sociali per la costruzione di campioni probabilistici: possibilità e limiti per lo studio di popolazioni senza lista di campionamento
digital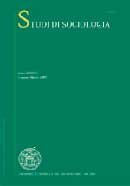 A. VITALINI, The use of social networks for the construction of probability samples: opportunities and limitations for the study of populations without sampling frame Populations without sampling frame, usually called hidden populations, are inherently hard to sample by conventional sampling designs. Often the only practical methods of obtanining the sample involve following social links from some initially identified respondents to add more research partecipants to the sample. These kinds of link-tracing designs make the sample liable to various forms of bias and make extremely difficult to generalize the results to the population studied. This article describes some attempts to build a statistical theory of link-tracing designs and illustrates, deeply, the Respondent-Driven Sampling, a link-tracing sampling design that should allow researchers to make, in hidden populations, asymptotically unbiased estimates under certain conditions. Last, the article discusses some features and problems of the Respondent-Driven Sampling which deserve further investigation and study. Key words: snowball sampling, link-tracing sampling, sampling hidden populations, responentdriven sampling, Markov chain.
Sociologia dell'essere e ontologia del sociale. Note intorno alla Lettera sull'«inesistente» di Andrea Bixio
digital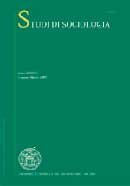 T. MARCI, Sociology of Being and Ontology of Society. Notes around Andrea Bixio's Lettera sull'«inesistente» The aim of this paper is to underline the sociological meaning of the book of Andrea Bixio, Lettera sull'«inesistente» (Rubbettino, Soveria Mannelli 2010); a book that revalues the experiences of the sacred and religion as fundamental horizons in order to think the real quality of our age and the complex condiction of the contemporary world. In fact, in order to consider the fundamental dialectic that crosses the relationship between social immanence and religious transcendence, this book opens again the possibility to run throught an able new sociological perspective to pointed out the necessity of a change of paradigm to the reflection of the social scientists. A change that returns to the originality of the sociological reflection, bringing back the thought to its essential historicity, that is, to the historical concreteness of a opened and indeterminated social experience. Key words: sacred, religion, sociology, ontology, transcendence.
Valutazione universitaria e mutamenti istituzionali in Europa
digital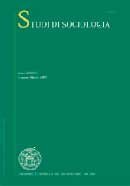 S. CHESSA - A. VARGIU, University evaluation and institutional changes in Europe. The paper deals with the theme of university evaluation in the light of institutional changes that European academies are presently facing. Some key factors of those changes as well as critical elements concerning them that are to be found in literature are discussed. In the paper, a distinction is made between macro, meso and micro levels at which changes are taking place. As to the macro level, the role of the European research and higher education policies is taken into account with a particular emphasis on the Open Method of Coordination. At the meso level, the main directives of National policies carried out in the different European member States are presented and discussed particularly by referring to accountability and autonomy. Whereas what is here defined micro level is dealt with by briefly discussing the links between the diffusion of new public management, university governance and evaluation. Following such premises, some proposals are made as to the ambits and modes of university evaluation that do not appear sufficiently developed. Key words: Higher education, Research, Europe, Evaluation, Accountability.
Consulta l'archivio
Ultimi 3 numeri
Annate disponibili online
Fascicoli anno
2023