Letizia Carrera
Titoli dell'autore
Donne «oltre la soglia». Una rivoluzione incompiuta
digital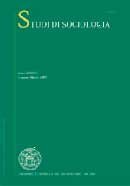 The job market is changed. The increasing women's entrance has modified its features and dynamics, but this change it's not complete and not ended yet. Although these changes, the job world is always a male world. Women have to confront with big problems yet, to consolidate and to assert their presence in it. Big problems both in quantitative terms and in qualitative ones. The phenomenon of vertical and horizontal segregation (ceiling glass and wall glass) is completely existing yet. In spite of this, an increasing number of women invade public and private organizations also in typically male sectors and positions of activity. This research is focused on personal and professional courses of some of women-managers.
Gli intricati percorsi della responsabilità sociale di impresa
digital
Globalization has given rise to an intense and problematic detachment between companies and the territory they work within. This has narrowed the time horizon of the companies, which have been conceiving the territory as a very short-term resource, something to be exploited here and now, without plans for the future. In these condictions, the social responsibility of the company has been suggested as a strategy able to rebuild the lost bond and give the companies complete social subjectivity, that is made possible by the shift from the stoke holder theory to the stake holder one. Within this important change the debate is focused on whether it is right to consider the social responsibility of the company as an economic strategy, in connection with the new character of the citizenconsumer, or it is better to return it to the ethical sphere and found on it the ambitious plan of a responsible and joint society.
La società flessibile: un percorso di lettura del cambiamento
digital
Flexibility is one of the main aspects of post-modern and contemporary society.It is deeply changing the labour market and consequentely the lifestyle of the subjects and their ability to make plans for the future. Flexibility has a plural nature and the subjects adapt to it in different ways, according to their sex, age and above all the acquired knowledge and competences. It becomes more and more urgent the necessity to manage flexibility and the changes brought about by it.To this purpose, politics must recover its role and function and decide on the aims, in order to restore the functional hierarchical relation with economy. This is very important so that people, though the flexibility, learn to perform cooperative actions based on mutual trust and solidarity.
Consulta l'archivio
Ultimi 3 numeri
Annate disponibili online
Fascicoli anno
2023