Vita e Pensiero
L'interazione quotidiana con l'altro. Le donne migranti e il lavoro di cura
digital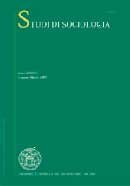 formato:

Articolo

| STUDI DI SOCIOLOGIA - 2007 - 4
In Italy many immigrant women work in domestic services and they replace the role of Italian women not only in typical domestic chores but also in taking care of the elderly and people with disabilities. This article explores the relation between immigrant women and aged people whom they take care of, starting from the point that in everyday life the social distance between Italian and immigrants could become shorter and shorter. The research is based on indeep interviews to immigrant domestic workers who work and live with Italian aged people. Referring to E. Goffman, the focus is on the organization of setting inside the house, the invasion of territories of the Self, the type of communication and the language used, the existence of a stage and a backstage. The findings point out that immigrant women enter into a close relation with the Italian elderly: they become a sort of family member and they get involved in a relation which is outside of the domestic work and which implies a high level of empathy.
Promuovere inclusione nelle scelte pubbliche. Teorie a confronto
digital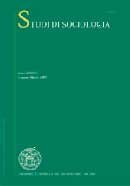 formato:

Articolo

| STUDI DI SOCIOLOGIA - 2007 - 4
Political inclusion, meaning by that the direct involvement and participation of social actors in the shaping of public policies, is today very much at the centre of debate of social sciences and has been growingly practised by public bodies. Inclusion practices do represent an interesting and new phenomenon concerning the functioning of our public bodies: their aim is to provide institutions with a stronger legitimacy, to prevent conflict, and to get to know and successfully govern increasingly complex social settings. The objective of the article is a) to analyse and discuss the theories and practices underpinning political inclusion exercises by the direct involvement of social groups (the theory of neocorporativism and of associative democracy); of citizens (the theory of direct democracy and participatory democracy); of stakeholders (theory of deliberative democracy); b) to assess the strengths and weaknesses of these political inclusion models; c) and to point out issues within this area that necessitate further reflection and empirical investigation.
Dismissione o reindustrializzazione? Prospettive di riuso dei siti produttivi in Valle Seriana
digital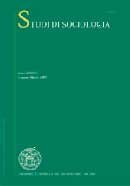 formato:

Articolo

| STUDI DI SOCIOLOGIA - 2007 - 4
In the world there are a lot of industrial facilities abandoned or under-used or at risk of turning only in commercial or residential areas because the deindustrialisation due to globalization. A number of researches and publications are made about regeneration of obsolete industrial facilities, contaminated sites, brownfields. Nevertheless, a few of researches investigated how to turn brownfields into jobfields avoiding deindustrialisation. That is a problem of public participation, seeking environmentally sound sustainable solutions and imaging in the future a new ecological way to industrial production. This could be the case of Valle Seriana (Italy), an area among the Alpine valleys under threat of deindustrialisation in a province (Bergamo), that is one of the most industrialised provinces of Europe.
L'anthropologie et l'écriture
digital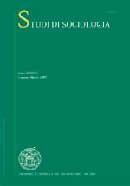 formato:

Articolo

| STUDI DI SOCIOLOGIA - 2008 - 1
This article explores the strong tie betweeb writing and anthropology. For Social sciences in general and for anthropology in particular writing has always been a fundamental feature of field research. So the recent transformations in anthropological ephistemology and methodology have changed not only anthropology research objects bur also the role of writing, that has become even more important. Marc Augé is one of the most important anthropologists whose thought has taken to a significant renewal of that discipline and in this paper he offers his authoritative poin of view on writing and anthropology.
Scrivere, tra sociologia e letteratura
digital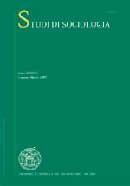 formato:

Articolo

| STUDI DI SOCIOLOGIA - 2008 - 1
In this article the author supports the hypothesis that a sociologist, or generally speaking a social scientist, is a writer, even it is necessary to distinguish between uno scrivente (a sheer writing subject) and uno scrittore (a writer strictly speaking), the difference being represented by the quality of writing of the latter as compared to the former: in particular, a writer-sociologist will make use of personal and discretionary choices as concerns written language. On the other hand, the author illustrates some examples drawn by contemporary poetry in order to show how literary production can contribute to give remarkable sociological insights. In conclusion, the article suggests that social sciences can learn about their own subjects and issues from literature.
Tra gli interstizi della scrittura di sé. Del piacere di giocare con carta e penna nel corso della vita
digital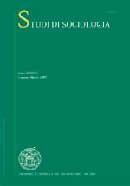 formato:

Articolo

| STUDI DI SOCIOLOGIA - 2008 - 1
Taking their inspiration from philosophy, human sciences have learnt that collecting people's life history is fundamental to understand and clarify situations and the «lebenswelt» of human beings. Life histories and the narrations of self provide the human scientist a deeper wiew and comprehension of the causes and reasons that other methodologies, such as observation, cannot get. Everyone is a storyteller of himself and such narrations of self enable us to know the invisible and the inner life of all our similars. Starting from this convinction Duccio Demetrio sees writing as a fundamental exercise that everyone should do in order to get a better knowledge of himself. An exercise that is also and mainly a pleasure and a way to «play seriously » with our own identity.
La forma «saggio» alla fine della sua storia
digital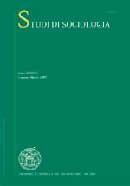 formato:

Articolo

| STUDI DI SOCIOLOGIA - 2008 - 1
The essay should give pleasure, as Virginia Woolf would put it, the essay must be «pure like water or pure like wine». Unfortunately, most efforts in this direction are being destroyed these days since writing in a standardized, arid, and academic English is a must if you want your essay to be accepted and taken seriously by the scientific community. Over the last decades the essay in the social sciences received valuable contributions from poetry, literature and philosophy. The contaminatio generum contributes in a positive way to the pleasure on the part of the reader, and of «tired people coming home in the evening» (V.W.), too. This phenomenon happens to occur, for instance, in Gasparini's sociological writings, where the contributions of his different souls (the poet, the critic, the social scientist) amalgamate in a most agreeable and pleasant «interstitial» writing.
Comunicare la sociologia: il sociologo come storyteller
digital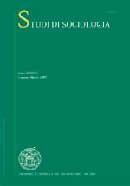 formato:

Articolo

| STUDI DI SOCIOLOGIA - 2008 - 1
After the linguistic turn in Social Sciences, the investigation on how Sociology should be communicated has become a central issue for postmodernists. The choice of pursuing a narrative sociology is not inspired only by the new paradigm of communication. It takes into account the changes in the sociological field which affect the ways of communication, the relation with expert audiences and the self-representation patterns of this discipline. The theory of this essay is that, within the context of the ethnographic research on the field (in particular the Grounded Theory), the sociologist engages in practices which have a certain affinity to literary work, as he plays a role of storyteller and painstaking manager of the written material related to the collection and interpretation of data. In all the main stages of the research process Sociology builds theories and at the same time communicates its results by means of an articulated writing which should be treated with the greatest care and attention.
Saperi per crescere: qualche riflessione
digital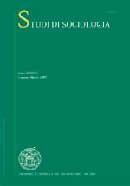 formato:

Articolo

| STUDI DI SOCIOLOGIA - 2008 - 1
Within a very extended historical perspective, we could connect to the beginning of the modern paedagogical era, with the debate between the classicist and the modernists concerning the question of curriculum. Coming to our times, we can identify the confrontation between the ones who privilege the «high writing» (rhetoric, poetry, etc.) and the ones who privilege the «low writing» (technical languages, functional symbolizations, etc.). The challenge to meet can be conceptualized in terms of democratizing the «high» in order to guarantee the access to the treasures of humanism to every child. This can be thought of as a third and really postmodern instructional model, based on the idea of mixing the values of decribing and representing with the values of imagining and transfiguring.
Letteratura e scienze sociali: un confine aperto?
digital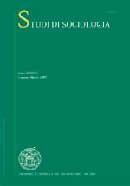 formato:

Articolo

| STUDI DI SOCIOLOGIA - 2008 - 1
«Science» and «literature» have been considered, for very long time, as two separate domains because of their different relationship with «objectivity». This dicothomy has its roots in the logocentric tendency of western thought and culture. After the social sciences «linguistic turn» and the consequent adfirmation of a post-modernist and post-logocentric sensibility the border between literature and (mainly social) sciences hase become more and more permeable and the same distinction between the two spheres has been interpreted in rethorical terms, as a difference between two genres of writing. This article explores reasons and paths that have led to such revenge of the literary domain reflecting both at the epistemological and sociological level.
Scrittura e interstizialità in Edgar Morin e Marc Augé
digital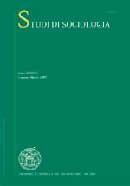 formato:

Articolo

| STUDI DI SOCIOLOGIA - 2008 - 1
This article examines roles and aims of writing in Social sciences and in literature analysing and comparing the works of the sociologist Edgar Morin and the athropologist Marc Augé. In thei wide intellectual production, these authors, in fact, share the same tendency to use different genres of writing. Beside of their scientific production, both Augé and Morin have published also diaries, essays and, in Augé's case, even novels. This paper try to read such tendency in writing experiments as indicator of the authors' capability to produce an interdisciplinary research.
La scrittura dei fisici
digital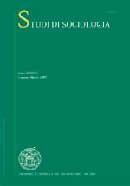 formato:

Articolo

| STUDI DI SOCIOLOGIA - 2008 - 1
This paper contributes to studies on the social use of written communication by analysing the relationship of physicists with writing. It addresses issues with particular regard to the debate on whether or not the language used by scientists is comparable to literary language. The basic idea is that in literary writing images are always only comments on the text, an interstitial part of the message. Instead, when the text becomes a commentary on the images (captions, comics), writing loses its literary character. Physicists make ample use of images (photographs, tables, graphs) in their publications and presentations to conferences. A brief analysis of empirical materials shows that physicists usually employ verbal language to support acoustically or mentally a discourse which in itself is intrinsically iconic. They are subject to the ambiguity having to rely on writing to state and solidify their knowledge claims while at the same time being unable to use a literary style but only one interstitial to iconic instruments of communication.
Consulta l'archivio
Ultimi 3 numeri
Annate disponibili online
Fascicoli anno
2021