Vita e Pensiero
Verso un'analisi strutturale delle forme di governance
digital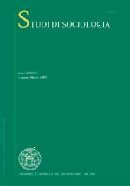 formato:

Articolo

| STUDI DI SOCIOLOGIA - 2007 - 3
This article suggests a sociological analysis of the concept of governance. First, the author presents an analysis of the characteristics of the social contexts that have supported the origin and the development of the concept of governance. Then, some political and sociological definitions of this concept are discussed. Secondly, the author presents a relational definition of governance and he shows how the relational sociology provides a multidimensional conception. The relational sociology furthermore allows to identify some empirical indicators of this concept. Finally, the author analyses the structural properties of the social networks that can be a resource for the processes of mutual-coordination between autonomous and interdependent actors. Then, some structural indicators of governance are discussed.
Le dinamiche delle reti e dei legami amicali
digital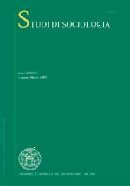 formato:

Articolo

| STUDI DI SOCIOLOGIA - 2007 - 3
The paper presents the results of a research on friendship networks of single people. The research has been undertaken using both social network analysis tools (egonetworks) and qualitative interviews, on a non-representative sample of 23 heterosexual singles of Milan, aged between 25 and 35, 12 male and 11 female. Single youths has been portrayed as a generation who decentres sexual and romantic relationships and refuses to commit: this paper demonstrates the need for new analytical concepts in order to describe the contemporary transformations of intimacy, that underline the importance of friendship for single youth. In order to focus on the dynamics of friendship, an heuristic model has been set up, which analyses the influences of the constitutional dimensions of friendship (ideal, negotional and situational). The modifications of one of these three analytical dimensions reflect on the others in a reflexive process that shows how friendship networks and ties evolve through time and keep a strong core of long lasting bonds.
Sommario generale dell'annata
Gratis
digital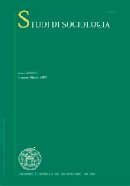 formato:

Articolo

| STUDI DI SOCIOLOGIA - 2006 - 3-4
STUDI DI SOCIOLOGIA - 2007 - 1
digital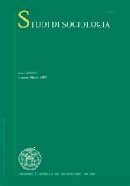 formato:

Fascicolo digitale

Editoriale
Gratis
digital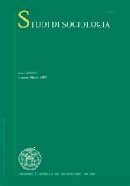 formato:

Articolo

| STUDI DI SOCIOLOGIA - 2007 - 1
Analisi d'opere
digital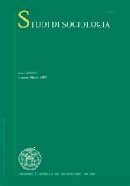 formato:

Articolo

| STUDI DI SOCIOLOGIA - 2007 - 1
STUDI DI SOCIOLOGIA - 2007 - 2
digital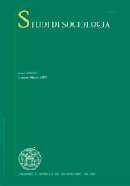 formato:

Fascicolo digitale

Istituzioni, multiculturalismo e costruzione dell'identità europea. Verso un'impossibile intesa?
digital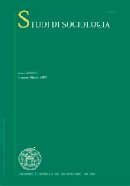 formato:

Articolo

| STUDI DI SOCIOLOGIA - 2006 - 3-4
The historical events which marked the last decades process toward an effective European Union give many suggestions to understand the role of the institutions in order to build a large integration among political and social actors, their interests and cultures, i.e. three conditions so that european identity may be acknowledged. The identity acknowledgement arises from a permanent negotiation among many social actors, in the same time it assures the legitimation to the institutions themselves. The theoretical and practical issues connected to this circular process are examined in relation with a specific Preambulum devoted to a solemn definition of cultural and religious origins of Europe. The insuccessfull acknoledgement of the cristian root of Europe is considered as a symbolic question which reveals deeper dilemmas in the present European theoretical debate on identity, pluralism, multiculturalism, tolerance. This symbolic question is re-examined throught the idea of civil religion, communitarism, multiculturalism, suggesting the need of new intercultural approaches. Finally, the attitudes toward the so called "Social Europe" are considered, in order to verify how some political and economical goals – as development and equity – may help the construction of the european identity.
Le istituzioni europee, i media e l'opinione pubblica
digital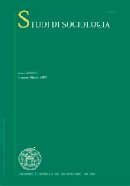 formato:

Articolo

| STUDI DI SOCIOLOGIA - 2006 - 3-4
Based on data of eurobarometer and of a research on the noticiability of the European Union in Italy and France, the author delineates an interpretation of the change of attitude of the European citizens towards the Union. The process of European unification, that initially enjoyed a wide consent of opinion, but a content of surface, has become more problematic because of increasing evidence of difficulties and contrasts of interest. In order to exceed such situation the author proposes a deliberative democracy, that uses all the shapes of communication and consultation of the public, in order to activate it and put it in a position to expressing itself on controversial and shared problems.
La distanza sociale. Dimensioni teoriche e attualità di un concetto «classico»
digital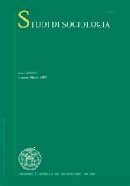 formato:

Articolo

| STUDI DI SOCIOLOGIA - 2007 - 1
Driving inspiration from classic sociology, this paper try to sketch a new way to think to social distance in contemporary society. A key role in defining and understanding social distance is played by Simmel's thought ad exposed in Sociology where he considers social distance as a process deeply embedded in the social production of knowledge. It is in facts by means of social knowledge that we give sense and organize the physical space, so that it is always a social space as well. At the same time, social space shapes the way in which actors interact and relate to each other, leading the social construction of the cathegories by which they perceive other people as distant or near. So, through Simmel's cathegories, we can describe urban space as the dynamic overalpping of two maps – physical and social – and we can understand transition from traditional, modern, european town to contemporary metropolis as a change in this overlapping that in the town was full and that, in contemporary metropolis is more problematic and complex.
Misurare la distanza sociale percepita: un test per la costruzione di una scala
digital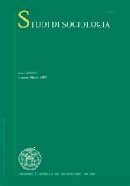 formato:

Articolo

| STUDI DI SOCIOLOGIA - 2007 - 1
The essay discusses the problem of operationally defining the concept of social distance. Specifically, on the basis of existing literature, attention is paid to the possibility of empirical data collection with regard to a peculiar dimension of social distance: subjects' perception, i.e. the ways through which individuals recognize social distance in their social relations. The research process which is presented starts from an exploratory phase, where semi-structured interviews have been used. In a second phase, data collected have been transformed into a substantial number of categories that were later tested in order to make them part of a perceived social distance scale (PSDS).
Culture vestimentarie globali? Giovani, genere e abbigliamento di seconda mano a Lusaka (Zambia)
digital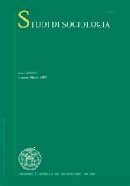 formato:

Articolo

| STUDI DI SOCIOLOGIA - 2007 - 1
This paper is based on research into secondhand clothing undertaken during the 1990s. It also contains observations from research in progress that the author has conducted in Zambia since 2001 on youth and urban social reproduction. The widespread use all over the world today of Western-inspired dress does not produce «sameness», even though we all wear many of the same things, for example, jeans and sneakers, shirts and dresses, and suits and ties. Cities like Lusaka are the prime stages for globalization's translation into local understandings and experiences. Monitoring the way they dress in public, clothing conscious Zambians pay considerable attention to the possibilities of their garments when dressing in world/global styles, seeking to anticipate their desired effects. In this affecting experience of dress, the distinction between used clothing and fashion becomes irrelevant as does the problematic differentiation between Western and non-Western dress styles. In spite of the aggressive forces that structure the global circuit of garment production and along with it, the international secondhand clothing trade, there does exist spaces within which locally authored dress distinctions may take over.
Consulta l'archivio
Ultimi 3 numeri
Annate disponibili online
Fascicoli anno
2021