Vita e Pensiero
Il problema dell'ordine sociale in Talcott Parsons e Harold Garfinkel
digital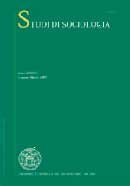 The issue of social order, how and why it is that social orders exists at all, is historically central to sociology. In this paper the focus is on the comparison between Parsons' and Garfinkel's point of view. Parsons regards social order as the outcome of value consensus in society, which ensures that behavior conforms to generally accepted norms. Garfinkel starts out with the assumption that social order is illusory. They believe that social life merely appears to be orderly; in reality it is potentially chaotic. Social order is constructed in the minds of social actors as society confronts the individual as a series of sense impressions and experiences which she or he must somehow organize into a coherent pattern. The differences seem to be less looking at the concept of social order and trust together as a common theoretical outcome.
L'analisi di materiale biografico: approcci metodologici
digital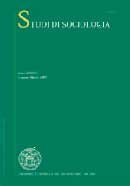 This article aims to provide a short digression, without claims for completness, about different opportunities of analysing the material coming from biographic interviews. Of course these possibilities of analysis could be also applied to other material of qualitative kind. Therefore we have tried to provide an epistemological overview of the methods more frequently used in this field. Furthermore, we have tried to give some specific examples, as far as possible, about the techniques adopted in each method, with a critical review.
Analisi d'opere
digital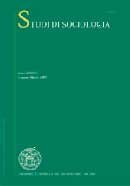 STUDI DI SOCIOLOGIA - 2008 - 1
digital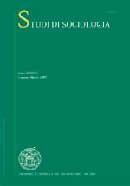 Introduzione
Gratis
digital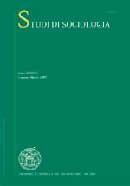 Analisi d'opere
digital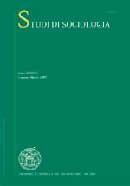 F. LAZZARI, Persona e corresponsabilità sociale, F. Angeli, Milano 2007. Un volume di pp. 204.
Il terzo settore italiano: verso una partnership sociale?
digital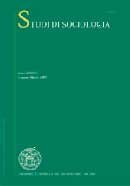 The title of this paper explains the reading key needed to analyse the Italian third sector, namely to verify its internal inclination to the realisation of social partnership. The study of the forms that the social partnership tends to assume is, as a matter of fact, object of a diffused interest, witnessing the growing pluralization of the social subjects involved in personal and intersubjective welfare actions. The route followed starts from the awareness of the internal differentiation characterising the Italian third sector, analyses it under the sociological profile, puts the theme of social differentiation in relation with the theme of social partnership, whose sociological character is highlighted, and finally it proposes to offer some empirical indications concerning the inclination to partnership of the subjects of the third sector with a particular insight on the organised voluntary service connoting itself as a strategic component of the Italian third sector.
Religione, politica e laicità
digital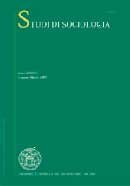 The presence of ideology seems to be a common feature in the sociological perspective. Therefore a dialectical debate is required. The policy as implementation of knowledge cannot be considered at the same level of scientific work. Various existential aspects are in question in the scientific field, especially when the religious identity is analysed, in terms of desacralization and sacralization. Beyond civil religion à la Rousseau, other solutions are viable. But cultural relativism is not outside the Church and it is in relationship with religious belonging. Finally a non conflictual secularism is set out.
L'interazione quotidiana con l'altro. Le donne migranti e il lavoro di cura
digital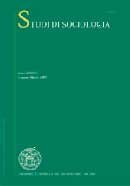 In Italy many immigrant women work in domestic services and they replace the role of Italian women not only in typical domestic chores but also in taking care of the elderly and people with disabilities. This article explores the relation between immigrant women and aged people whom they take care of, starting from the point that in everyday life the social distance between Italian and immigrants could become shorter and shorter. The research is based on indeep interviews to immigrant domestic workers who work and live with Italian aged people. Referring to E. Goffman, the focus is on the organization of setting inside the house, the invasion of territories of the Self, the type of communication and the language used, the existence of a stage and a backstage. The findings point out that immigrant women enter into a close relation with the Italian elderly: they become a sort of family member and they get involved in a relation which is outside of the domestic work and which implies a high level of empathy.
Promuovere inclusione nelle scelte pubbliche. Teorie a confronto
digital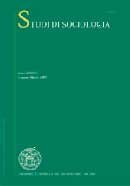 Political inclusion, meaning by that the direct involvement and participation of social actors in the shaping of public policies, is today very much at the centre of debate of social sciences and has been growingly practised by public bodies. Inclusion practices do represent an interesting and new phenomenon concerning the functioning of our public bodies: their aim is to provide institutions with a stronger legitimacy, to prevent conflict, and to get to know and successfully govern increasingly complex social settings. The objective of the article is a) to analyse and discuss the theories and practices underpinning political inclusion exercises by the direct involvement of social groups (the theory of neocorporativism and of associative democracy); of citizens (the theory of direct democracy and participatory democracy); of stakeholders (theory of deliberative democracy); b) to assess the strengths and weaknesses of these political inclusion models; c) and to point out issues within this area that necessitate further reflection and empirical investigation.
Dismissione o reindustrializzazione? Prospettive di riuso dei siti produttivi in Valle Seriana
digital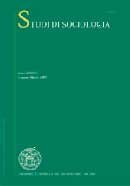 In the world there are a lot of industrial facilities abandoned or under-used or at risk of turning only in commercial or residential areas because the deindustrialisation due to globalization. A number of researches and publications are made about regeneration of obsolete industrial facilities, contaminated sites, brownfields. Nevertheless, a few of researches investigated how to turn brownfields into jobfields avoiding deindustrialisation. That is a problem of public participation, seeking environmentally sound sustainable solutions and imaging in the future a new ecological way to industrial production. This could be the case of Valle Seriana (Italy), an area among the Alpine valleys under threat of deindustrialisation in a province (Bergamo), that is one of the most industrialised provinces of Europe.
Consulta l'archivio
Ultimi 3 numeri
Annate disponibili online
Fascicoli anno
2022