Vita e Pensiero
Donne «oltre la soglia». Una rivoluzione incompiuta
digital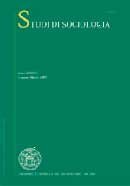 formato:

Articolo

| STUDI DI SOCIOLOGIA - 2008 - 2
The job market is changed. The increasing women's entrance has modified its features and dynamics, but this change it's not complete and not ended yet. Although these changes, the job world is always a male world. Women have to confront with big problems yet, to consolidate and to assert their presence in it. Big problems both in quantitative terms and in qualitative ones. The phenomenon of vertical and horizontal segregation (ceiling glass and wall glass) is completely existing yet. In spite of this, an increasing number of women invade public and private organizations also in typically male sectors and positions of activity. This research is focused on personal and professional courses of some of women-managers.
«In-finito volo». Metafore trasparenti e mondo degli umani. Gli aquiloni come «esseri volanti» tra poesia, prosa e altro
digital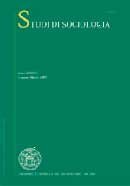 formato:

Articolo

| STUDI DI SOCIOLOGIA - 2008 - 2
Gianni Gasparini is a sociologist and at the same time he is also a poet and a critic. The sociological glares of its work become, in the virtuous encounter with the poetical pen, as many literary reflectors on the human condition. It is necessary to comprise better, after the reading of its poem One hundred kites, if with Gasparini the poetic writing becomes sociology and if the sociology comes used for the construction of the poetic interlacing. If the poetry (and the literature) sociology is made because it narrates sociological types or because it puts in scene social processes sociological utopies like that many times over evoked of the «Community of the kites» composed from one hundred individuals «united and distinguished/communicating and silent».
Sviluppo locale e progettazione sociale. Dal paradigma illuminista alla partecipazione relazionale
digital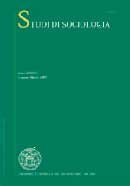 formato:

Articolo

| STUDI DI SOCIOLOGIA - 2008 - 3
The themes of local growth and social planning, always the centre of sociological reflection and research, are tackled in diachronic perspective through theoretical and methodological considerations and explanatory examples that, beginning from the Enlightenment paradigm, succeed to outline the existing and potential planning scenarios, connected to relational patterns of participation in management. The essay proposes different social-historical analysis, related to the origin and the development of local communities on territory, and it tries to explain them, combining their creation, the most of time utopian, with the social planning processes. In this context the sociologist is qualified as a professional researcher who participates to planning, indispensable in identifying and describing meaningful leading indicators of development process in their relational evolution.
Il problema dell'ordine sociale in Talcott Parsons e Harold Garfinkel
digital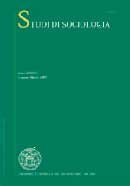 formato:

Articolo

| STUDI DI SOCIOLOGIA - 2008 - 3
The issue of social order, how and why it is that social orders exists at all, is historically central to sociology. In this paper the focus is on the comparison between Parsons' and Garfinkel's point of view. Parsons regards social order as the outcome of value consensus in society, which ensures that behavior conforms to generally accepted norms. Garfinkel starts out with the assumption that social order is illusory. They believe that social life merely appears to be orderly; in reality it is potentially chaotic. Social order is constructed in the minds of social actors as society confronts the individual as a series of sense impressions and experiences which she or he must somehow organize into a coherent pattern. The differences seem to be less looking at the concept of social order and trust together as a common theoretical outcome.
L'analisi di materiale biografico: approcci metodologici
digital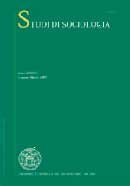 formato:

Articolo

| STUDI DI SOCIOLOGIA - 2008 - 3
This article aims to provide a short digression, without claims for completness, about different opportunities of analysing the material coming from biographic interviews. Of course these possibilities of analysis could be also applied to other material of qualitative kind. Therefore we have tried to provide an epistemological overview of the methods more frequently used in this field. Furthermore, we have tried to give some specific examples, as far as possible, about the techniques adopted in each method, with a critical review.
Devianza e fair play tra i banchi di scuola. La socializzazione del compito in classe
digital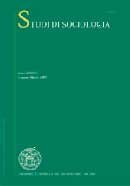 formato:

Articolo

| STUDI DI SOCIOLOGIA - 2007 - 4
Analisi d'opere
digital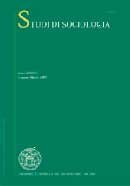 formato:

Articolo

| STUDI DI SOCIOLOGIA - 2007 - 4
STUDI DI SOCIOLOGIA - 2008 - 1
digital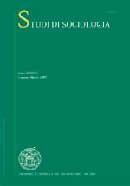 formato:

Fascicolo digitale

Introduzione
Gratis
digital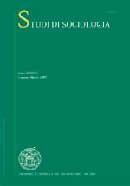 formato:

Articolo

| STUDI DI SOCIOLOGIA - 2008 - 1
Analisi d'opere
digital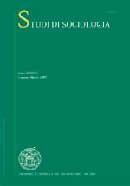 formato:

Articolo

| STUDI DI SOCIOLOGIA - 2008 - 1
F. LAZZARI, Persona e corresponsabilità sociale, F. Angeli, Milano 2007. Un volume di pp. 204.
Il terzo settore italiano: verso una partnership sociale?
digital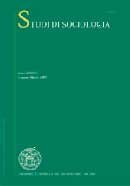 formato:

Articolo

| STUDI DI SOCIOLOGIA - 2007 - 4
The title of this paper explains the reading key needed to analyse the Italian third sector, namely to verify its internal inclination to the realisation of social partnership. The study of the forms that the social partnership tends to assume is, as a matter of fact, object of a diffused interest, witnessing the growing pluralization of the social subjects involved in personal and intersubjective welfare actions. The route followed starts from the awareness of the internal differentiation characterising the Italian third sector, analyses it under the sociological profile, puts the theme of social differentiation in relation with the theme of social partnership, whose sociological character is highlighted, and finally it proposes to offer some empirical indications concerning the inclination to partnership of the subjects of the third sector with a particular insight on the organised voluntary service connoting itself as a strategic component of the Italian third sector.
Religione, politica e laicità
digital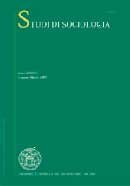 formato:

Articolo

| STUDI DI SOCIOLOGIA - 2007 - 4
The presence of ideology seems to be a common feature in the sociological perspective. Therefore a dialectical debate is required. The policy as implementation of knowledge cannot be considered at the same level of scientific work. Various existential aspects are in question in the scientific field, especially when the religious identity is analysed, in terms of desacralization and sacralization. Beyond civil religion à la Rousseau, other solutions are viable. But cultural relativism is not outside the Church and it is in relationship with religious belonging. Finally a non conflictual secularism is set out.
Consulta l'archivio
Ultimi 3 numeri
Annate disponibili online
Fascicoli anno
2021