The proposal of humanist constructionism
digital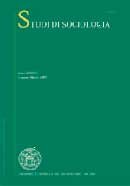 Ebook in formato Pdf leggibile su questi device:
V. CESAREO - I. VACCARINI, The proposal of humanist constructionism
Sociological theory in the twentieth century polarized between collectivist doctrines which asserted social determinism and individualist ones which asserted the autonomous action of atomistically conceived individuals. The late 1900s also saw the advent of a kind of radical individualism which can be labelled «sociological minimalism». «Social constructionism» is the contemporary approach which seeks to reconcile the above polarizations, and it is within its theoretical domain that lies the proposal for a «humanist constructionism» put forward in this article. Humanist constructionism sets value on subjectivity and historicity. On this base it thematizes the person understood as a sociological category, and it crucially refers to the sociology of Max Weber in so far as it is qualified by the existential and historicist dimensions. The distinctive feature of humanist constructionism is its axiological profile founded upon the concept of citizenship. Within contemporary sociology, «humanist constructionism» has a particular elective affinity with the morphogenetic approach of M. Archer.
Key words: humanism, constructionism, person, citizenship.
Consulta l'archivio
Ultimi 3 numeri
Annate disponibili online
Fascicoli anno
2011