Catton e Dunlap: affinità e diversità nell'ambito di un messaggio fin troppo attuale
digital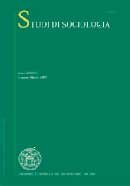 Ebook in formato Pdf leggibile su questi device:
I. BERETTA, Catton and Dunlap: affinities and differences within the context of an all too topical message.
Within the context of Environmental Sociology, the role is by now generally recognised of William R. Catton Jr. and Riley E. Dunlap as founding fathers of the subject. Their names are often jointly cited, above all because of the number of texts written together; and yet the two authors come from rather dissimilar personal and vocational training backgrounds, and only in a specific period of their lives did they meet, materially and intellectually, giving life to a new branch of Sociology and to a unique, original, and innovative sociological paradigm. This article stems from a desire to satisfy a curiosity of mine inasmuch as, though having been involved for many years in Environmental Sociology, one day I realised I was not acquainted – in what is for me a detailed enough way – with the thought of the two different sociologists, their different personalities, life histories, vocational backgrounds. In particular, I asked myself about the specificity of the contribution given by each of these authors to the birth of the subject and to the definition of the New Ecological Paradigm. In this essay then, I have focused above all on the aspects that seem to me most meaningful in the lives and works of Catton and Dunlap, while outlining that the inevitable diversity of the two authors is also a major element of strength and richness of the works they produced together. To put it in the words of Dunlap himself: «Collaborations can be difficult, frustrating, and disappointing, but they can also be very rewarding. The best ones reflect the synergy created by two (or more) colleagues with quite different backgrounds, strengths, and interests coming together and creating something that neither would have produced on their own. This is definitely the case for my collaboration with Bill Catton, particularly the early series of articles we wrote in the late 1970s» (Dunlap, 2008).
Key words: Origins of Environmental Sociology; New Ecological Paradigm, Socio-environmental interaction.
Consulta l'archivio
Ultimi 3 numeri
Annate disponibili online
Fascicoli anno
2011