La Lebenssoziologie e la sfida della sociologia relazionale nella concettualizzazione della relazione come "forma" di vita sociale
novità
digital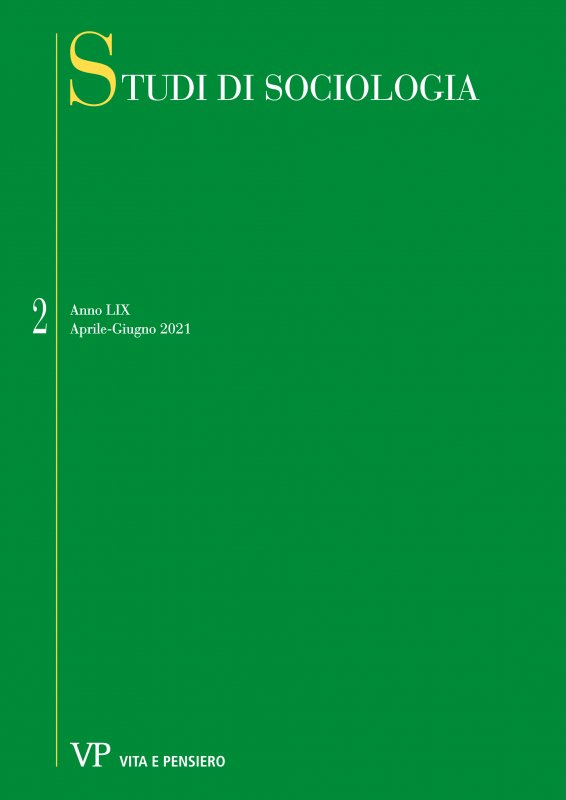 rivista
STUDI DI SOCIOLOGIA
fascicolo
STUDI DI SOCIOLOGIA - 2021 - 2
titolo
La Lebenssoziologie e la sfida della sociologia relazionale nella concettualizzazione della relazione come "forma" di vita sociale

---

The Lebenssoziologie and the Challenge of Relational Sociology Towards a Concern of Relation as a "Form" of Social Life

autore
Davide Ruggieri
editore
Vita e Pensiero
formato
Articolo |

Pdf

online da
05-2021
doi
10.26350/000309_000115
issn
0039291X (stampa)

|

18277896 (digitale)
Ebook in formato Pdf leggibile su questi device:
Some sociologists contributing to the foundations of relational sociology on the international stage have been recently remarking a kind of affinity between both notions of social relation and social life: hey particularly refer to the pioneering views of Georg Simmel, who is largely mentioned and concerned in the following paper. The interaction among social subjects generates unexpected and emergent forms which sociologist must detect and inquiry: the interactive feature of any relation refers to the "content" of the social relation itself. Form and content stand for social life. This paper aims at  addressing and deepening relational perspective, as regarded by Pierpaolo Donati, towards a Lebenssoziologie: in short, it hints to concern sensu strictissimo social relations as forms of social life. This lucky locution (i.e. Lebenssoziologie), adopted by Scott Lash more than ten years ago into a new interpretation of Simmel's social theory, concerns social life in terms of stream which fits with analysis on such themes as media and ICT. In this contribution, Donati's relational sociology is challenged and thematised in relation of a critical and relational Lebenssoziologie.
keywords
Sociologia relazionale, Forme, Vita sociale, Relazione, Simmel
Biografia dell'autore
Davide Ruggieri, Università di Bologna. Email: davide.ruggieri3@unibo.it.
Consulta l'archivio
Ultimi 3 numeri
Annate disponibili online
Fascicoli anno
2021