Vita e Pensiero
Ri-scoprirsi identità complesse
digital
The following dialogue with Edgar Morin stresses his anthropological theory which offers a cross-disciplinar view of human identity. This approach becomes essential because of the nature of the object itself, that is a complex synthesis of antithetical elements: nature, culture and society. Putting every single discipline into a deep dialogue between each other Morin works out a theoretical framework which connects different fields of knowledge becoming the only method able to reveal and understand human complexity. This idea of complexity becomes also, in Morin's thought, a useful keyword to describe contemporary global society, ruled by uncertainty. According to Morin, to survive in this inhospitable condition, umankind must build a planetary consciousness and learn to think itself as the citizenship of a unique planetary mother-country.
Gli intricati percorsi della responsabilità sociale di impresa
digital
Globalization has given rise to an intense and problematic detachment between companies and the territory they work within. This has narrowed the time horizon of the companies, which have been conceiving the territory as a very short-term resource, something to be exploited here and now, without plans for the future. In these condictions, the social responsibility of the company has been suggested as a strategy able to rebuild the lost bond and give the companies complete social subjectivity, that is made possible by the shift from the stoke holder theory to the stake holder one. Within this important change the debate is focused on whether it is right to consider the social responsibility of the company as an economic strategy, in connection with the new character of the citizenconsumer, or it is better to return it to the ethical sphere and found on it the ambitious plan of a responsible and joint society.
Genio individuale o pratica sociale? Le mille facce della creatività
digital
In the last few years there has been considerable attention on creativity seen from the point of view of several disciplines. This paper looks at the historical evolution of concept of creativity, by underlining its collective dimension (psychology and natural sciences especially contributed to this connotation). Until a decade ago, creativity was a marginal subject in sociological reflection, which from the initial stages has tended to focus mainly on the rational dimension of action. 'Spread creativity' is an effective key word to read some relevant phenomena of contemporary society: cultural economy, the rise of a new creative class, consumption as creative performance. In this context, I consider the condition of Italy, example of a 'creativity without system'. Finally, I try to address the initial question: is creativity an expression of an individual genius or a social practice? The first definition is still maintained, but today the social dimension is prevailing. Recent studies actually underline the relevance of contextual components for creativity development. Creativity is an intersubjective value and contemporary societies are moved by a creative ethos. Creativity as a social motor requires further sociological inquiry, preferably carried out with qualitative and non-standard methodology.
La conoscenza sociologica in Vilfredo Pareto e Max Weber
digital
Both Pareto and Weber wrote their fundamental works between 1890 and 1920. They dealt with the relationship between Sociology and Economics and other Human Sciences, especially Psychology and History, but their results were quite different. Indeed, the Italian engineer developed step by step a method which links logic and experience in order to achieve an objective and universal knowledge by a (neo-)positivistic standpoint, whereas the German jurist followed the Neo-Kantian philosophy of values and stressed the importance of the personal purpose. However, although Pareto supported a kind of abstractive procedure whose range is much bigger than Weber's Idealty-pus, they ultimately agreed on the so-called "methodological individualism", because of their commitment to marginalist Economics.
Banchi di prova. Migranti e minoranze etniche in Europa fra riuscita e segregazione scolastica
digital
The present contribution analyses in a comparative way the relation between schools and migration in Europe, taking in account different experiences and societal models: the educational system of free choice in Netherlands, the recent arrival and the overlapping between language of the hosting society and the language of the main migrants groups in the case of Spain, the accumulated tradition and the permanent tensions in the management of migration in schools in the case of UK, France and Germany. The contribution focuses on two main aspect: the educational achievement of migrants and the process of educational segregation.
Ricordo di Agostino Palazzo
Gratis
digital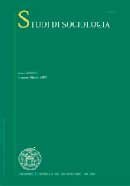 STUDI DI SOCIOLOGIA - 2005 - 2
digital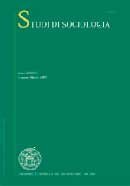 STUDI DI SOCIOLOGIA - 2005 - 3
digital
Le vie della ricomposizione
digital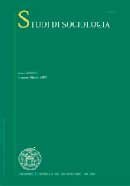 This paper shows the main features of a survey promoted by the Department of Sociology of Catholic University of Milan and other 10 Italian universities during the 2001-2003 biennium. This survey, lead at national level, was aimed to find how contemporary self manages to deal with social complexity and fragmentation. The purpose of the survey was to find out if, in the biographies of young-aged adults (25-39 years old people), a renewed pursuit of stability is emerging in opposition to postmodernist subject's crisis and longing for ludic and narcissistic experimentation with self. The survey, lead on a sample of 3500 people, shows that contemporary social actors do search for stability and that their attempt to reach for it finds in the building of a family and the conquest of a secure job its fundamental strategies. That leads to a prevailing privatistic lifestyle, characterized by the lack of interest in public life, as showed, for example, by the negative attitude of young-aged adults towards politics.
Il mondo moderno come una monolitica gabbia d'acciaio? Usare Max Weber per definire le dinamiche interne della cultura politica americana di oggi
digital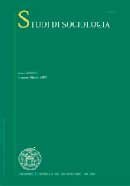 If derived from the overall thrust of his sociological writings rather then his political essays, Weber's view of modernity is characterized by attention to the unique features of various advanced industrial societies rather then by a monolithic «iron cage» vision. This study first demonstrates this point by briefly discussing central differences in the political cultures of Germany and the United States, and then by reconstructing, following Weber, the classic dualism in the American political culture: a «world mastery» and self-reliant individualism stands opposed to – though also intertwined with – a public sphere penetrated by civic ideals. Although Weber's expectations regarding the fate of this classical dualism in the twentieth century can be seen today to be largely incorrect, the utilization of an axiom central to his comparative-historical sociology yields a powerful conceptualization of the present-day American political culture: pendulum movements across a «tripolar constellation» are identified. This application of Weber's sociology reveals its power even today.
Consulta l'archivio
Ultimi 3 numeri
Annate disponibili online
Fascicoli anno
2023