Marc Augé
Libri dell'autore
Habiter les villes-monde (Non/Virtuels/Nouveaux) Lieux et relations sociales
digital
formato:

Articolo

| STUDI DI SOCIOLOGIA - 2016 - 4
Sur-modern society is characterized by the emergence of new forms of (human) dwelling, very different from the modern ones. Some of them are individualistic, other are collective or founded on sharing and collaboration. Currently, the so-called «Social Streets» can be considered as one of the much innovative experimentations in the field of urban dwelling. As a form of social innovation based mainly on a culture of gift and sharing, they try to answer to social inclusion needs and to enhance practices of urban environment care and defense...
L'anthropologie et l'écriture
digital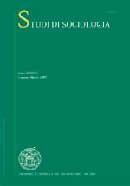 formato:

Articolo

| STUDI DI SOCIOLOGIA - 2008 - 1
This article explores the strong tie betweeb writing and anthropology. For Social sciences in general and for anthropology in particular writing has always been a fundamental feature of field research. So the recent transformations in anthropological ephistemology and methodology have changed not only anthropology research objects bur also the role of writing, that has become even more important. Marc Augé is one of the most important anthropologists whose thought has taken to a significant renewal of that discipline and in this paper he offers his authoritative poin of view on writing and anthropology.
Consulta l'archivio
Ultimi 3 numeri
Annate disponibili online
Fascicoli anno
2021