Carlo Pennisi
Titoli dell'autore
Le ragioni delle regole per la valutazione dell'Università: per un'etica della pratica accademica
digital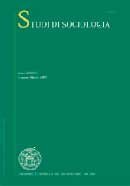 M. PALUMBO - C. PENNISI, Reasons for University evalutation: ethical and deontological issues The necessity of University evaluation derives from ethical and deontological issues, linked to the autonomy that is a necessary feature of the University, since its foundations. Nevertheless, it is not «the University» as a whole to be evaluated, but those specific components and activities, in which the scientific interests of professors must be coherent with the interests of other stakeholders (students, colleagues, public institutions, society) by clearly defined rules and objectives. Evaluation is strongly tied to autonomy, by means of the accountability that every autonomous institutions must warrant. Unfortunately, the recent University reform law does not propose evaluation as an instrument of accountability and as a tool to make Universities responsible, but as an instrument of their external control. Key words: Academic evaluation, Universities evaluation, University reform, Institutional change.
Morfogenesi e riflessività. Alcune condizioni per parlare sociologicamente delle istituzioni
digital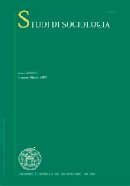 Through the fundamental concepts of habitus and reflexivity, the author analyses both the heuristic role and the limits of Margaret Archer's work for the maturation of present sociological theory and for the change of the way in which the sociology studies the institution. In fact, the relative dependence between the reflexivity of the internal conversation and the reflexivity of the structures lets the sociologist choice between an "institutional" perspective and a theoretically autonomous and specifically scientific perspective.
Consulta l'archivio
Ultimi 3 numeri
Annate disponibili online
Fascicoli anno
2022