Barbara Barabaschi
Titoli dell'autore
Partecipazione democratica e sviluppo nella sociologia di Achille Ardigò
digital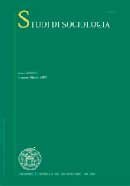 B. BARABASCHI, Democratic participation and development in Achille Ardigò sociology. Paper aims to deep Achille Ardigò tribute to the sociological reflection on «participation» and «local development» concepts. Focusing on the primate of civil society on political control, various forms of participation that Ardigò used in his analysis are presented, with special reference to that of social and cultural participation. Ardigò indicated also the real case of urban and local development, in order to explain disfunctional effects that these kind of development may produce, with the risk to compromise the equilibrated balance between rise and labour quality and, in consequence, life quality. Finally, it is possible to declare that Ardigò lesson is extremely up-todate in respect of contemporary sociological literature on local development based on participation processes. This, only if all actors involved will be able to emphasize cultural, communicational, relational dimensions, local social capital, and only if social cohesion would be the aim of local development processes, probably only at these conditions they could end with success. Key words: democratic participation, local development, urban development, civil society.
Apprendere dagli imprevisti: i due livelli della riflessività
digital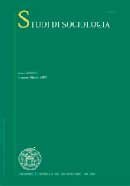 Essay presents some theoretical roots of the unexpected consequences of learning on the basis of phenomenology and sociological literature. In this review who learns is the social researcher. Learning from the unexpected means to be led by exceptional, counterfactual, invisible, paradoxical, […] data, that is, what the research design cannot plan. It suggests a double way to the unanticipated learning outcomes: to generate learning from past experiences (thinking- the-action), and to generate a new perspective to understand learning along with the process of building knowledge (thinking the thoughts). Essay conclusion is that every time the actor/researcher leads to modify his knowledge and cognitive logics, the analysis of unanticipated outcomes operates as an instrument of social and cultural change.
Consulta l'archivio
Ultimi 3 numeri
Annate disponibili online
Fascicoli anno
2023