Andrea Vargiu
Titoli dell'autore
Responsible Research and the Semantics of University's Third Mission. A Theoretical Discussion
digital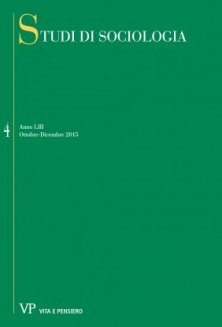 According to literature, scientific research has undergone very profound and rapid changes in the last decades which implied, among other things, the emergence of the need for responsible scientific practices and attitudes. Accordingly, the European Commission has recently launched a specific Action Plan centred on Responsible Research and Innovation (RRI). The paper discusses some of the implications of the possible declinations of the term responsibility by schematically recalling such notions as answerability, imputability, liability in order to highlight the relational character of responsibility as a result of a complex interplay of expectations and anticipations about actions and their fallouts...
Valutazione universitaria e mutamenti istituzionali in Europa
digital
S. CHESSA - A. VARGIU, University evaluation and institutional changes in Europe. The paper deals with the theme of university evaluation in the light of institutional changes that European academies are presently facing. Some key factors of those changes as well as critical elements concerning them that are to be found in literature are discussed. In the paper, a distinction is made between macro, meso and micro levels at which changes are taking place. As to the macro level, the role of the European research and higher education policies is taken into account with a particular emphasis on the Open Method of Coordination. At the meso level, the main directives of National policies carried out in the different European member States are presented and discussed particularly by referring to accountability and autonomy. Whereas what is here defined micro level is dealt with by briefly discussing the links between the diffusion of new public management, university governance and evaluation. Following such premises, some proposals are made as to the ambits and modes of university evaluation that do not appear sufficiently developed. Key words: Higher education, Research, Europe, Evaluation, Accountability.
La diversità nella ricerca-azione partecipata: alcune implicazioni metodologiche e procedurali
digital
Diversity can be dealt with as to its theoretical and conceptual as well as operational definition. Some methodological and procedural remarks about diversity among people involved in participatory action research must be also pointed out. It is well known that peculiar research approach aims at modifying the observed situation, particularly through a shared knowledge production. In that perspective, some problematic key terms, such «action», «participation» and «responsibility», must be clarified and practically dealt with. This paper tries to deal with those problems and point out some ways of facing them by referring to practical experience. The main questions pointed out deal with the differences in nature and social positions of both individual and collective actors involved in an action research setting; their differences in knowledge, interests and strategies; the conceptual, physical social and symbolic ambits in which they act; the different resources, time horizons, and expectations which orientate their behaviour.
Consulta l'archivio
Ultimi 3 numeri
Annate disponibili online
Fascicoli anno
2023