Vanessa Dioguardi
Titoli dell'autore
Il ruolo della comunicazione nel sistema sanitario negli scritti di Achille Ardigò
digital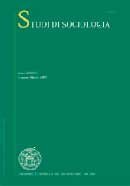 V. DIOGUARDI, Communication role in health system in Achille Ardigò works. The aim of this paper is to explain how Achille Ardigò treated the issue of health communication in his works. In the first part of the paper, we will review the Ardigo's thought about the concept of communication. We will find out that Ardigò regards communication as the cornerstone of the society. In the second part, we will focus on the specific role played by communication within the health system; the Ardigò's opinion is that communication should promote forms of relationship and participation. Therefore we will examine features that good communication should have to enable recipients of health services to get out of passive state. Key words: Ardigò, communication, health communication, health system.
Non solo «quel che resta del giorno»... Un'analisi comparativa del consumo di tempo libero in Europa
digital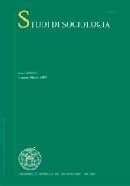 The aim of this paper is to draw attention to the role of leisure studies in social change analysis and in comparative sociology studies. In the first part of the paper, we briefly review the main definitions of leisure time. Then we focus on methodological problems related to comparative analysis on leisure time use. In the second part, we compare the structure of leisure time in different european countries studying some analogies and differences among them. Eurostat data constitute the empirical basis of this comparative analysis. In the third part, we underline that counting «who does something», «how often people do something», «in which period of the day, of the week, of the month or of the year people do something» and «how much time people spend to do something» just isn't enough for studying leisure time. Therefore, new questions should be asked: what does leisure mean in individual experiences? And how does leisure time become «institutionalized» in shared social practices? Then, an appropriate method is proposed to answer these questions. Key words: leisure time, social change, comparative analysis.
Consulta l'archivio
Ultimi 3 numeri
Annate disponibili online
Fascicoli anno
2023