Tito Marci
Titoli dell'autore
Alcune note sull'idea di «Big Society»
digital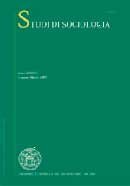 T. MARCI, Notes on the idea of «Big Society» The aim of this paper is to underline the sociological meaning of the political idea of «Big Society»: an idea that was launched on July 2010 by the Prime Minister David Cameron, leader of the British Conservative Party. The genesis of the «Big Society» was the idea, first articulated by Phillip Blond, that the stifling duopoly of a centralised state and a laissez-faire free market had reached the point of diminishing returns – and that nothing less than a radical, coherent platform for reinvigorating civil society would suffice. In this way, the aim was to create a climate that empowers local people and communities, building a «Big Society» that will take power away from politicians and give it to people. This is a bottom-up vision, not a government program dictated from the state to citizens. «Big Society» is about a cultural change where people don't always turn to officials, local authorities or central government for answers to the problems they face but instead feel both free and powerful enough to help themselves and their own communities. The paper propose a critical point of view about these problems. Key words: big society, civil society, social enterprises, communities, citizenship.
Sociologia dell'essere e ontologia del sociale. Note intorno alla Lettera sull'«inesistente» di Andrea Bixio
digital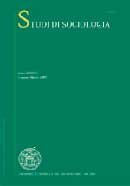 T. MARCI, Sociology of Being and Ontology of Society. Notes around Andrea Bixio's Lettera sull'«inesistente» The aim of this paper is to underline the sociological meaning of the book of Andrea Bixio, Lettera sull'«inesistente» (Rubbettino, Soveria Mannelli 2010); a book that revalues the experiences of the sacred and religion as fundamental horizons in order to think the real quality of our age and the complex condiction of the contemporary world. In fact, in order to consider the fundamental dialectic that crosses the relationship between social immanence and religious transcendence, this book opens again the possibility to run throught an able new sociological perspective to pointed out the necessity of a change of paradigm to the reflection of the social scientists. A change that returns to the originality of the sociological reflection, bringing back the thought to its essential historicity, that is, to the historical concreteness of a opened and indeterminated social experience. Key words: sacred, religion, sociology, ontology, transcendence.
L'etica dell'ospitalità nell'era della globalizzazione
digital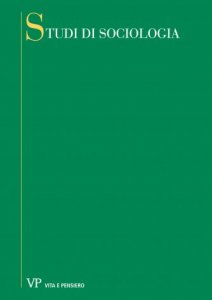 Consulta l'archivio
Ultimi 3 numeri
Annate disponibili online
Fascicoli anno
2022