Maurizio Esposito
Titoli dell'autore
Anziani e welfare state tra accelerazione tecnologica e rischio di disaffiliazione sociale. Riflessioni sociologiche in tempo di pandemia
novità
digital
The article intends to reflect on the relationship between the welfare state, the risk of social disaffiliation and technological acceleration at a time when social relations – an essential aspect of human life – have undergone a disintegration and remodeling due to both the pandemic crisis and the wedging into the social world of new technological paradigms...
Achille Ardigò e la «sociologia della composizione». La sfida dell'umanizzazione delle reti telematiche nel welfare sanitario
digital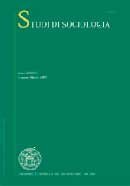 M. ESPOSITO, Achille Ardigò and the «Sociology of Composition». The challenge of the humanization of Information and Communication Technologies in the Health System. The article aims to highlight the «compositive» vocation of Sociology of Achille Ardigò, especially in the field of humanization of Information and Communication Technologies in the Health System. This beruf finds expression in the continuous and uninterrupted references – not only from a theoretical and axiological point of view, but also in a heuristic and applicatory sense – to a sociology based on key words of: composition, cooperation, complementarity, compatibility, connection. This Sociology may finally realize the Homo Civicus of the modern society, in which high subjectivity and high level of existential significance are fully realized, and that constitutes the entire realization of the concept of "person". The rationalization of the Health System doesn't mean, according to Ardigò, a de-humanization of the relationship and the networks, but on the contrary the Information and Communication Technologies, and especially the Web, must be used in a complementary and subsidiary way, so that relations between operators and clients, patients and their families could be further improved and appreciated, in a «social utilization» of the new technologies. Key words: new technologies, person, composition, humanization, networks.
Consulta l'archivio
Ultimi 3 numeri
Annate disponibili online
Fascicoli anno
2022