Guido Gili
Libri dell'autore
Quale coesione sociale? Cinque meccanismi integrativi alla prova della crisi
digital

formato:

Articolo

| STUDI DI SOCIOLOGIA - 2013 - 3 - 4
Why do human societies remain united and do not dissolve into a fine dust of individuals and small groups?
Il piacere della violenza. Esposizione televisiva, gratificazioni del pubblico e pratiche di fruizione
digital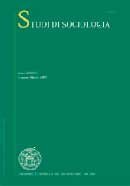 formato:

Articolo

| STUDI DI SOCIOLOGIA - 2005 - 2
Why is there violence in mass media? This question has two aspects. The first one regards the choices, the motivations and the strategies of the producers, i.e. all those people – journalists, authors, directors, those in charge of the programming, pressure groups – who, with different capabilities and at various levels, influence the making or the diffusion of the contents. People who produce or broadcast violent contents act on the basis of particular expectations regarding the preferences of the audience, yet they cannot force anybody to switch on or to be interested in violence on television. For this reason it is of particular interest to analyse the audience's motivations. This is the other aspect of the question, that one of the addressees. Do violent messages attract the audience? If so, why? Which type of audience, in what conditions and in what contexts? What kind of satisfaction and gratification does the audience, that voluntarily exposes itself to violent messages, actually gain? This paper aims to investigate why the addressee is attracted by programmes, whether of news or fiction, containing violent messages; reasons that may have nothing to do with the «pleasure of violence». An additional aim is to analyse how different practices of exposure to and consumption of the television violence can influence the processes of decoding and interpretation, and so, in turn, affect individuals and groups.
Il fantasma della realtà: prospettive realiste e idealiste nell'analisi dei mass media
digital
formato:

Articolo

| STUDI DI SOCIOLOGIA - 1998 - 2
Consulta l'archivio
Ultimi 3 numeri
Annate disponibili online
Fascicoli anno
2021