Elisa Bellotti
Libri dell'autore
Le dinamiche delle reti e dei legami amicali
digital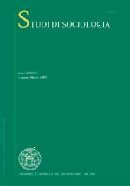 formato:

Articolo

| STUDI DI SOCIOLOGIA - 2007 - 3
The paper presents the results of a research on friendship networks of single people. The research has been undertaken using both social network analysis tools (egonetworks) and qualitative interviews, on a non-representative sample of 23 heterosexual singles of Milan, aged between 25 and 35, 12 male and 11 female. Single youths has been portrayed as a generation who decentres sexual and romantic relationships and refuses to commit: this paper demonstrates the need for new analytical concepts in order to describe the contemporary transformations of intimacy, that underline the importance of friendship for single youth. In order to focus on the dynamics of friendship, an heuristic model has been set up, which analyses the influences of the constitutional dimensions of friendship (ideal, negotional and situational). The modifications of one of these three analytical dimensions reflect on the others in a reflexive process that shows how friendship networks and ties evolve through time and keep a strong core of long lasting bonds.
I segni dell'appartenenza. La gioventù postmoderna tra sperimentazione e frammentazione
digital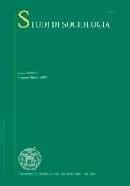 formato:

Articolo

| STUDI DI SOCIOLOGIA - 2003 - 2
The article explores the most common concepts in the theory of youth. Based on recent international literature, it shows how the concept of age, social class, deviant behaviour, life style are social constructions often used to analize youth, while a more interdisciplinary and intercultural analysis of the phenomenon is needed. Youth cannot be reduced in general definitions, for the increasing importance of individualization and individual biography. Consumer culture and life style are useful concepts if they are considered as a language people use to express themselves, a symbolic code with which young people negotiate self image depending on the context they relate to. The importance of image can be viewed also in peer groups, although in some cases the style is not anymore the key of access (like mohican hairstyle for punk) but becomes an individual choice, without the role of marks of belonging.
Consulta l'archivio
Ultimi 3 numeri
Annate disponibili online
Fascicoli anno
2021