Articoli Online First
Welfare, politiche pubbliche e società civile. un'analisi dell'applicazione dell'accesso civico generalizzato (foia) in italia
digital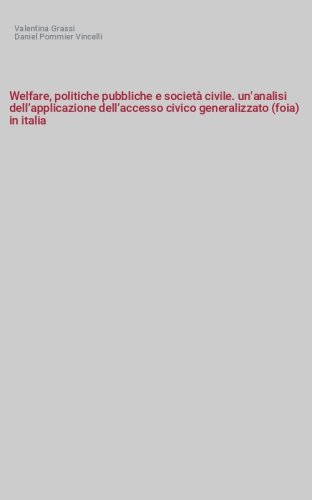 The purpose of this article is an investigation on the use of the so-called Freedom of Information Act (FOIA) in Italy. A FOIA law was enacted in Italy in 2016 and became operational in 2017...
La partecipazione nello stallo democratico: un approccio culturale
digital The article shows the effect of the cultural dimension on participation. At first it describes democratic impasse caused by the disaffection of citizens, from political force. Two shortcuts are born: populism and plebiscitarism...
Vicini di casa social(i): il fenomeno (made in Italy) delle social street
digital The aim of this paper is to give a portrait of the state of social relationships in Italy, focusing mainly on relationships among neighbors living in urban settings. After a general recognition on the status of social solidarity in the Italian contemporary society, particular attention will be given to the role and the efficacy of on-line platforms and social networks specifically designed to enhance collaboration among neighbors. Finally the paper will delve into the emerging phenomenon of Social Streets, giving a theoretical definition and a very accurate description drawing on the empirical data collected by the search «Vicini e connessi. Alla scoperta del vivere social», conducted by the Observatory on Social Street, founded and directed by the Author himself. This search, mainly based on the city of Milan, is a quali-quantitative project. The collection of empirical data was conducted by means of an on-line survey, more than 70 in-depth interviews with the foundators of the social streets of Milan, and ethnographical observation.
Industrie creative e sharing. Una nuova geografia della produzione culturale?
digital
The use of «creativity», «creative industries», or «creative cities» as leitmotifs within the literature on urban development is not new and it finds its antecedents in other more classical approaches such as the role of «bohemians», «cultural industries» and «culture-led urban regeneration». Creativity has led to different paradigm shifts in productive relations and in the generation of innovation over the course of history (Jason 2011). The context of prosperity and growth that took a turn for the worse in 2008 had unequivocal consequences also for the creative sectors. Several authors that have geared their research towards this field (Banks and Deuze 2009; Gill and Pratt 2008 among others), debunked the concepts of creativity and creative class, as defined by Florida and provided empirical evidence that address the emergence of new forms of relationships between workers in creative sectors which have lot in common with the collaborative economy paradigm. This article addresses collaborative economy as a new way of conceptualizing collaboration and competition within creating industries. Departing from an analysis of the most recent literature on the topic (Botsman - Rogers 2010; Arvidsson - Peitersen 2013; Kostakis - Bauwens 2014; Benkler 2004), the overall objective of this article is to apply an understanding of how collaborative economy is redefining creative sectors.
La ricchezza della sharing economy
digital In contemporary Western societies, as Bourdieu had already clearly stated, capital can not be limited to the economic dimension because it embraces other aspects. Likewise, wealth and also poverty do not depend only by the availability of money but involve areas of experience traditionally excluded from economic calculation and financial exchanges. The article shows how, in the manifold universe of sharing economy, some experiences arise and can generate value (and in some cases also economic profits) starting from what today people most need: relationships, recognition of capacity and knowledge not always appreciated by the labor market, re-occupation of the local space, leisure time, safety, creativity. All these aspects are real forms of wealth, which are circulated thanks to the digital platforms studied in the research presented here, and prefigure a future in which the economic logic should include other dimensions traditionally left on the fringes of market exchanges.
Consulta l'archivio
Ultimi 3 numeri
Annate disponibili online
Fascicoli anno
2021