Un ponte per…: l'associazionismo internazionale in Toscana tra cooperazione e solidarietà
digital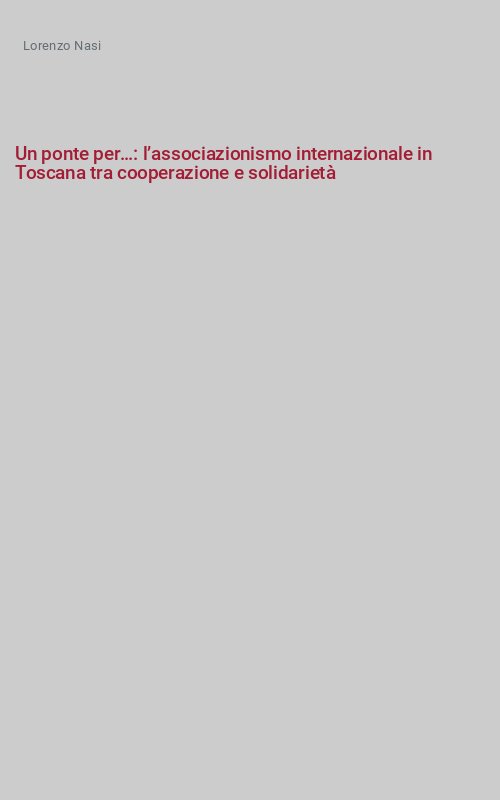 rivista
STUDI DI SOCIOLOGIA
sezione
Online First
titolo
Un ponte per…: l'associazionismo internazionale in Toscana tra cooperazione e solidarietà

---

A bridge for...: international associationism in Tuscany, between cooperation and solidarity

autore
Lorenzo Nasi
editore
Vita e Pensiero
formato
Articolo |

Pdf

online da
06-2019
doi
10.26350/000309_000066
issn
0039291X (stampa)

|

18277896 (digitale)
Ebook in formato Pdf leggibile su questi device:
In the history of Italian associations, the field engaged in the international dimension has been and still represents today, from the height of over forty years of life, one of the sectors with the longest operating experience. The article intends to identify the structural and organizational characteristics of the Tuscan voluntary organizations that operate at an international level; the values, the culture and the social missions of these organizations; the human, material and symbolic resources available to them. In particular, the research seeks to identify the paths, the types of activities carried out, highlighting if and how these realities are placed in the different operational approaches of International Solidarity and Development Cooperation, within the complex system of decentralized regional cooperation.
keywords
Volunteer organizations, International solidarity, Development cooperation, Third sector.
Biografia dell'autore
lorenzo.nasi@unisi.it