Le Unanticipated Consequences dei movimenti sociali: considerazioni teoriche e relative alla ricerca sul campo
digital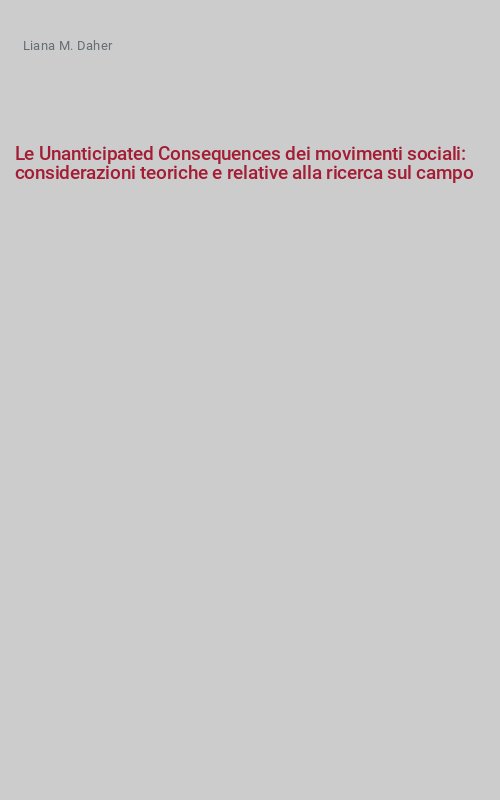 rivista
STUDI DI SOCIOLOGIA
sezione
Online First
titolo
Le Unanticipated Consequences dei movimenti sociali: considerazioni teoriche e relative alla ricerca sul campo

---

The Unanticipated Consequences of social movements: theoretical and empirical considerations

autore
Liana M. Daher
editore
Vita e Pensiero
formato
Articolo |

Pdf

online da
11-2018
doi
10.26350/000309_000046
issn
0039291X (stampa)

|

18277896 (digitale)
Ebook in formato Pdf leggibile su questi device:
Social movements outcomes has been analysed by different perspectives. Only recently social movements studies start to focus on the unanticipated consequences of social movements strategies and collective action. Talking about unanticipated consequences of social movements meets the need of deeper understanding social, political and cultural change and poses some important questions for social movements research. The article aims to outline some of these questions, also stressing on the reasons why social movements scholars paid little attention to the study of unanticipated consequences of social movements in the past; it also aims at proposing a new classification starting from the Weber's social action ideal type, with particular attention to the Merton's and Boudon's works. Finally, some methodological considerations will be made in order to better understand empirical issues around the topic.
keywords
Social Movements, Outcomes, Models, Empirical research methods.
Biografia dell'autore
Liana M. Daher, Università degli Studi di Catania. Email: daher@unict.it.