STUDI DI SOCIOLOGIA - 2016 - 1
digital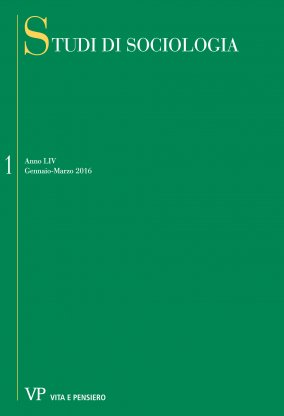 rivista
STUDI DI SOCIOLOGIA
fascicolo
1 - 2016
titolo
STUDI DI SOCIOLOGIA - 2016 - 1
editore
Vita e Pensiero
formato
Fascicolo digitale |

Pdf
Ebook in formato Pdf leggibile su questi device:
Primo fascicolo del 2016
SOMMARIO
SAGGI
Value commitment and intervention in a disordered world
di Sam Whimster
pagine: 8
€ 6,00
Abstract ∨
How disordered a world do we live in today? What is the role for social sciences in our changing world? Comparing Weber's times and our own reveals many similarities pointing to transformational issues. Thanks to the deep contextual Weberian scholarship carried out since the 1980s, it is now possible to see the depth of Weber's engagement with his own times. Value freedom in the context of the science of reality is re-considered and some suggestions put forward on how to reconcile the engaged Weber with the Weber of formal sociology and academic value freedom. Weber was an interventionist in his own time; and ours, undergoing its own catastrophes, requires the same Weberian commitment to nomological knowledge and the expression of reasoned outcomes at the level of both values and empirical reality.
La condotta della vita (Lebensführung): da Goethe a Max Weber
di Hans-Peter Müller
pagine: 16
€ 6,00
Abstract ∨
For Weber, the investigation of social and individual life were inextricably interwoven and belonged inexorably together. To study the economy and the societal orders and powers implies the necessity to figure out which type of human being and what kind of conduct of life the prevailing culture primarily selects. The conduct of life – and this is the central theoretical thesis of my essay – was the indispensable end moraine of Weber's sociology. No sociological study would be complete without asking the question: What does this all mean for the conduct of life of actors and status groups? Despite the fact that «conduct of life» is neither a basic concept nor truly defined, it characterizes the analytical and normative vantage point of Weber's sociology. It is my normative thesis that Weber was basically inspired by Goethe in order to answer the question of how to lead a meaningful life. He translates life and work of the German poet into his sociology of the proper conduct of life under modern conditions.
Il carattere distintivo dell'Occidente: Max Weber dalla modernità all'antichità
di Arpad Szakolczai
pagine: 16
€ 6,00
Abstract ∨
Having finished his essay on the Protestant Ethic Weber was expected to return to analyzing the contemporary world. Yet, from 1910 onwards, the central focus of his research was a 
comparative study on the «economic ethic» of the world religions, which took him deeply back into antiquity. Weber's turn was motivated by a visionary insight into our contemporary present, evident since the end of the Cold War and 9/11: globalisation and the politics of religion. This was what Weber foresaw and wanted to put into perspective. The essay examines some key concepts of the Weberian historical sociology of civilizations and religions, demonstrating the depth of Weber's insights about modernity and its character. It then identifies some serious shortcomings in Weber's thought, suggesting a path along which Weberian sociology could take the spirit of Weber beyond Weber's words, including the seemingly unbounded hopelessness of his last words about the incoming «Iron Age». Key words: rationality, Weberian sociology, schismogenesis, modernity, antiquity.
Oltre il sacro testo: il «problema» Weber e le prospettive del pensiero weberiano
di Lawrence A. Scaff
pagine: 16
€ 6,00
Abstract ∨
Was Weber merely a scientist, or was he something more than that? Today what meaning is conveyed when we claim that a position, idea, or way of thinking falls under the Weberian rubric? These questions can be answered in two different ways: historically and contextually, or conceptually and analytically. Neither type of answer should be considered sovereign or autonomous. They support and complement each other. But we have come to realize that even these answers are insufficient, for today the Weberian legacy has spilled over into the broader public domain of cultural commentary and political argument. Weberian thought is no longer simply the property of protected enclaves of academic specialization guarding the sacred texts, but has instead been applied to the problems of contemporary public life and reimagined as a late addition to the most essential moral and political discourse in Western civilization.
La sociologia weberiana e l'Europa: alcune considerazioni prospettiche attraverso l'analisi della prima ricezione italiana
di Cesare Silla
pagine: 19
€ 6,00
Abstract ∨
Aim of the essay is to show how the first Italian reception of Max Weber was able to anticipate many points later highlighted by the «Max Weber Renaissance», which during the Eighties has amended the «Weberian Canon» that took shape in the previous decades. Starting from the Forties up to the beginning of the Eighties many authors and books, as diverse as they are, had been nonetheless able to avoid major shortcomings stemming from Marxist and Parsons-inspired receptions of Weber's oeuvre. Through the analytical review of the first Italian reception, a different image of Weberian sociology will appear, at which center a distinctive mode of questioning and a specific principle for selecting the material of investigation stand, unveiling the «European» problematic – of its science and its humanity – from which originates.
COMMENTI
Il paradosso dell'eredità weberiana
di Mauro Magatti
pagine: 7
€ 6,00
Il posto dei valori nella riflessione weberiana: tra etica della ricerca e ricerca sull'etica
di Giancarlo Rovati
pagine: 6
€ 6,00