STUDI DI SOCIOLOGIA - 2015 - 1
digital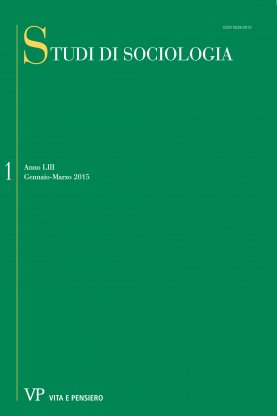 rivista
STUDI DI SOCIOLOGIA
fascicolo
1 - 2015
titolo
STUDI DI SOCIOLOGIA - 2015 - 1
editore
Vita e Pensiero
formato
Fascicolo digitale |

Pdf
Ebook in formato Pdf leggibile su questi device:
Primo fascicolo del 2015
SAGGI
Collaborative Economy and the Digitalization of Timebanking: Opportunities and Challenges
Abstract ∨
The origins of timebanking in Europe go back to the 90's but, for a decade, with some exceptions, it was not well-known. Over the last years, however, but also of explosion of the so-called collaborative/sharing economy, timebanking has gain popularity, in context of crisis. The number of initiatives has experienced a peak and a new kind of TB has emerged, the Digital TB (DTB). This paper emerges from a transnational case study research. First, it proposes a classification of TBs. After that, it focuses on one DTB, TimeRepublik, before analysing the main similarities and differences between old and new TBs. Finally, it reflects about the role of digital technologies in the rejuvenation of an old idea such as time exchange. The main conclusions are that, despite sharing the hour per hour schema, DTBs' scope, members' profile and nature of the services exchanged bring along some limitations and challenges but also reveal a set of possibilities beyond the goals of traditional timebanking.
Studio sulla pratica del baratto online e la sua dimensione politica
di Giulia Federica Airaghi
pagine: 21
€ 6,00
Abstract ∨
The object of the present research is the analysis of online barter as an emerging practice of resistance. The scope of the work is to highlight the political dimension of consumption and exchange and to determine to which extent barter can be considered a counter-hegemonic practice. To achieve this objective, the paper reconstructs the phenomenology of the practice, defining barter as an exchange of goods and services without the use of money, between two parts involved in a negotiation process. The work develops within a theoretical frame referring to the sociological conflicting approach of Gramsci and Simmel, enhanced by the contribution of the political scientist Chantal Mouffe. The empirical material was collected through non-standard methods, conducting a five-month digital ethnography in three websites dedicated to barter, and 22 biographic interviews with their users.
Studiare l'individuo per leggere la società. La prospettiva dell'individualizzazione
di Vulca Fidolini
pagine: 19
€ 6,00
Abstract ∨
The European sociological theory thought has always analysed the category of «individual» as a product of Modernity: this notion is at the core of the analysis which describe the transition from a «Traditional» social order to the «Modern» one. In this scenario individualisation plays a central part but, though it is often used by scholars as a prominent tool to interpret social change, its definition still remains problematic. Through exploiting a theoretical reflection on the individual's present condition, this article will speak in favour of the interpretative value of individualisation in sociology. Then, through paying attention to the scenario of a non-Western Modernity, individualisation will help us to describe some crucial categories to define contemporary society: from the condition of the individual choice up to the laborious construction of the individual biographical trajectory in different social and personal domains. This path will reveal the value of the category of «individual» as a sociological tool to investigate contemporary social change and the new challenges of our present global society.
Per non ricadere nella droga: una esplorazione sul ruolo di fattori individuali, relazionali e sociali
di Daria Panebianco
pagine: 22
€ 6,00
Abstract ∨
This paper analyses the role of several individual factors, social network dimensions, and social resources accessible by support members on posttreatment substance use among ex patients of an Italian therapeutic treatment agency. Employing a social network analysis approach, I measured ego-centered networks in a sample of 80 treated addicts, and investigated which features of the support networks (structural characteristics, network composition, kinds of resources mobilised) are related to the risk of relapse. I explored the role of social capital in terms of advantage generated by ego's location in the structure of relationships as an opportunity to reach more and diverse benefits protecting against drug use. I also examined the connection between perceived public discrimination, job attitude and likelihood of readopting drug-abusing behaviour. Results show that having a higher occupational status, a reduced perception of public discrimination and a positive job attitude minimize the risk of renewed drug use. Additionally, having a social network more heterogeneous and less constrained, members willing to provide reputational resources and reciprocate support contribute to maintaining drug-free status.
I luoghi della socievolezza: spazi pubblici e spazi a uso pubblico nella città di Alghero
di Romina Deriu
pagine: 23
€ 6,00
Abstract ∨
This paper focuses on the relationships between mobility and urban public spaces. Referring to the simmelian theory of sociability, we aim to answer to some fundamental questions: are public spaces still places of sociability? Through what practices can some mobile populations foster social interaction? Which may be the way to create public spaces in increasingly privatized contexts? In order to clarify these questions, the paper refers to the town of Alghero, as a relevant example, characterized by a strong presence of tourists. The public spaces are progressively losing their function of fostering the sociability which is performed by the third spaces or public spaces self-created by young people. Nevertheless, the presence of tourists is not significant for the local social life, because of their limited relationships with local people. Some other forms of sociability are activated both by those social actors who are connected to the public art and by the students.