STUDI DI SOCIOLOGIA - 2014 - 3
digital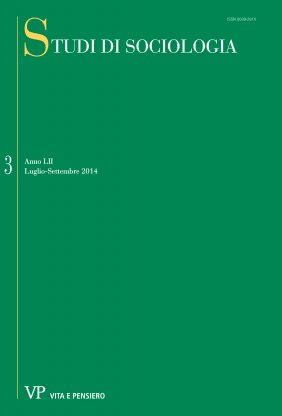 rivista
STUDI DI SOCIOLOGIA
fascicolo
3 - 2014
titolo
STUDI DI SOCIOLOGIA - 2014 - 3
editore
Vita e Pensiero
formato
Fascicolo digitale |

Pdf
Ebook in formato Pdf leggibile su questi device:
Fascicolo 3 del 2014
SAGGI
Anziani attivi in Europa tra morfogenesi dei legami e innovazione esistenziale
di Donatella Bramanti, Lucia Boccacin
pagine: 27
€ 6,00
Abstract ∨
The paper is meant to frame the widespread phenomenon of active ageing in a sociological perspective that enhances the roles played by intergenerational relationships and social generativity in shaping identities and generate well-being. By analysing data concerning the 65-74 year old European population gathered through the 4th wave of the Survey of Health, Ageing and Retirement in Europe (SHARE) we show these three different ways of experiencing, embodying and to give meaning to active ageing. The cluster analysis and binomial logistic regression shed light on the different structural and cultural itineraries leading the young old to decline their 'active ageing' according to the three above-mentioned ways and demonstrate that a) primary and secondary relations play a crucial role in enabling young old subjects (65-74 yrs) to give a sense to the transition they are experiencing and can therefore be defined generative; b) these generative relationships (at personal and family life level) give origin to forms of social generativity, thus excluding other forms of active ageing. To be socially generative means to operate outside one's family for the wellbeing of the future generations through social activities and initiatives in third sector organisations, schools, neighbourhood and local communities. Generativity can thus be expressed through teaching, mentoring, voluntary work, philanthropy or political engagement.
Solidarity in Times of Crisis: Emergent Practices and Potential for Paradigmatic Change. Notes from Greece
Abstract ∨
The article aims at exploring solidarity as it is currently expressed in Greece and discusses its potential to bring about a paradigmatic change in the current organisation of social relations. In Greece the ongoing socio-economic and financial crisis has affected the lives of millions of people in a profound manner. From the onset of the current crisis, even when the devastating effects were not visible to the general public, several 'solidarity activities', emerged as a response organised by citizens. Help was provided basically in three fields: subsistence, health and education. Three years later, solidarity activities have multiplied and so have the organisations. Moreover, a substantial number of groups organise relations of production, consumption and goods distribution on an equitable and fair basis within the 'alternative' or 'social' economy paradigm, showcasing in this way the possibility of societal change from bottom up. The article discusses theoretical approaches to solidarity together with material from the ongoing study on this topic, attempting to answer the question on the potentiality of a paradigmatic change.
La modernità complessa tra istanze di emancipazione e derive dell'individualismo: la comunicazione per il legame sociale
di Piero Dominici
pagine: 24
€ 6,00
Abstract ∨
The current chaotic and disordered social systems are undergoing a further (critical) phase of change, marked by the advent of the interconnected economy, something which is drawing attention to several issues regarding citizenship. Under discussion are the new opportunities for emancipation being offered by the widespread knowledge that is fuelling the networks of social protection and promotion: links of interdependence and interconnection are intensifying even if some observers continue to hypothesize the possible end of the social bond. The old industrial model based on consolidated assets, hierarchies, logics of control and closure to change appear to be on the point of being broken up by the new knowledge ecosystem. On the other hand, we are living in an age which is being increasingly marked by the breakup of the systems of belonging and belief – the real and true producers of collective and individual identity – and by the consequent affirmation of individual and utilitarian values. This sort of 'tyranny of the individual' is presenting itself as a real and proper centrifugal force, a force capable of corroding the ties within social systems' and thereby of testing their resilience. Further confirmation of this process of progressive weakening and disintegration is to be found in the widespread deficit of social and political participation which is itself being fuelled by a climate of general mistrust towards all the (formal and informal) institutions that were previously the sole agents responsible for the transmission of value- and knowledge systems. The thesis that we will attempt to argue is therefore the following: the individualism that is dominating our social systems is the result, to some degree the inevitable result, of the process/project of emancipation that has been carried forward during the course of modernity.
NOTE E COMMENTI
La mediazione dialogica con gli adolescenti: promuovere autonomia, partecipazione e riflessione
di Elisa Rossi
pagine: 23
€ 6,00
Abstract ∨
This paper, also through some examples of interactions, video-recorded in schools and international camps, aims at showing how dialogic mediation with adolescents can be carried out and what obstacles it has to face. Dialogic mediation, based on affective expectations, is a form of communication that promotes respect, autonomy and the diversity of opinions. It means to: 1) stimulate adolescents' active participation, as a display of their autonomy in communication; 2) coordinate their personal expressions (opinions, emotions, experiences)and promote a reflection on them; 3) manage conflicts, helping the parts in finding autonomous solutions and constructing new narratives.