STUDI DI SOCIOLOGIA - 2014 - 1
digital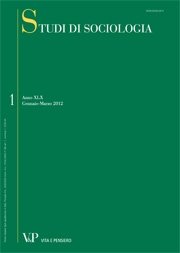 rivista
STUDI DI SOCIOLOGIA
fascicolo
1 - 2014
titolo
STUDI DI SOCIOLOGIA - 2014 - 1
editore
Vita e Pensiero
formato
Fascicolo digitale |

Pdf
Ebook in formato Pdf leggibile su questi device:
...
Spunti per il dibattito
La qualità del sapere sociologico in Italia: una riflessione
di Vincenzo Cesareo
pagine: 4
€ 6,00
Alunni anticipatari e de-standardizzazione del ciclo scolastico: una nuova politica per l'infanzia?
di Maddalena Colombo
pagine: 24
€ 6,00
Abstract ∨
In application of the Italian Law 30/2003, since s.y. 2003/04, parents can opt to enroll their children in the first year of nursery and primary school in accordance with more flexible age requirements, allowing children whose third/sixth birthday falls on or before April the 30th of the given year (previously, the cut-off date was 31st December). In addition to this reform, since 2006 nursery schools have introduced so-called «spring classes» for children aged two. All these innovations increase the heterogeneity within the classroom, along with an increase in parental choice and freedom. Hence, if the number of early enterers is to increase, a new relationship between childhood, school, and social times will inevitably take place. With the intermediation of parental choice, traditional time-markers are losing their importance, and children's development process will be less standardized than in the past. The essay offers a picture of the «de-standardization» of schooling in Italy as it stands today, by assuming it to be the end result of a long-term transition (from a centralistic vision to a more autonomist conception), which has provoked a rupture in the principle of uniformity as applied to the educational system, and it still fosters a more personalized and privatized view of children's education. The main effects of early school entrance on Italian schools are outlined (in terms of enrolment rates at a regional level using data from the Miur – Ministry of Education) and used to analyze how different stakeholders are carrying out the reform: the positions of those in favour (parents and principals) are compared to against the reform (teachers and education specialists) with the help of qualitative data (also by Miur). Going beyond the opposition between contrasting social interests, it is worth questioning which sort of cultural change is likely to occur if children can be considered ready to go to school independently of age; and who has the task/right to decide on their school readiness and to assess the consequences of an early school experience. In conclusion, the essay aims to sketch a childcentered point of view, over and beyond the defensiveness of adults' fears and projections.  

Key words: sociology of education, times of schooling, early/delayed school entrance, social control of the child, children's agency.
Saggi
Erving Goffman e la sociologia delle emozioni
di Paolo Iagulli
pagine: 22
€ 6,00
Abstract ∨
This essay aims at surveying Erving Goffman's contribution to the sociology of the emotions. It consists of two parts: in the first part, it is stated that the Canadian sociologist has never taken any interest in the emotions, even in the well-known essay on embarrassment, which is dealt
with in the topic of the 'interaction rules': in the second part it is stated that Goffman's dramaturgical approach is at the basis of one of the main sociological approaches to emotions, the socalled dramaturgical-cultural approach. These two theses aren't contradictory indeed: this essay is meant to support the theory that Goffman's thought (like that of many other 'classical' authors of sociology) can be considered at the roots of the contemporary sociology of the emotions, even if he seems not to have intentionally contributed to it.

Key words: Goffman, emotions, embarrassment, dramaturgical approach.


La conoscenza come forma di libertà responsabile: l'attualità del "cittadino ben informato" di Alfred Schütz
di Emiliana Mangone
pagine: 18
€ 6,00
Abstract ∨
This paper wants to propose ideas on how the knowledge can become the strategic element for growth and development of humanity in a direction of civil coexistence as a result of the exercise of responsible freedom of each person. The first part focuses on the transformations of some conceptual structures of contemporary society and on cognitive process that involves people in their daily lives, highlighting critical issues and opportunities. Then move the focus on issues concerning the social distribution of knowledge and how it influences the constitution of a human being in person. For the latter presents a critical commentary on the essay by Schütz "The well-informed citizen. Essay on the social distribution of knowledge" that tends to stress its actuality with regard to the affirmation of the necessity of a modern citizenship based on forms
of responsible freedom derived from knowledge socially approved.

Key words: knowledge, responsible freedom, citizenship, daily life, development.
Note e commenti
"Raccontami delle tue vacanze": un caso di studio tra giovani turisti sostenibili
di Albertina Pretto
pagine: 18
€ 6,00
Abstract ∨
A number of studies, in a range of disciplines, have tried to identify the variables and parameters most useful for establishing the essential characteristics of the sustainable tourist and in several cases have come to conflicting conclusions. We believe that sociological factors, like
growing up in an educational setting that encourages respect for the environment and a sense of socio-territorial belonging, are more important than socio-demographic characteristics such as age, income and so on. To test this hypothesis, we have carried out research among young people
who live in a territorial context that promotes environmental sustainability and where other studies have already established that there exists a strong feeling of socio-territorial belonging among the resident population. Our main aim is to establish the existence of this attitude among the
young people of this area when they are on holiday.

Key words: sustainable tourism, educational context, socio-territorial belonging, young tourists.
La preghiera come relazione. Considerazioni da un'analisi dei Gruppi di Preghiera di Padre Pio
di Mario Salisci
pagine: 16
€ 6,00
Abstract ∨
Prayer has often been considered as a social archaism, but it still represents one of the most common practices that manifests itself in different ways. The purpose of this paper is to analyze the practice of prayer and its significance in the largest system of prayer groups in the world. The
Prayer Groups of Padre Pio are very strong in Italy but they also encompass 60 countries and involves thousands of groups. The results of this study suggests a concept of prayer that goes beyond the traditional definition of coping and embraces more complex sociological categories such as those of the relationship.

Key words: prayer, coping, charisma, groups, social relation.