STUDI DI SOCIOLOGIA - 2011 - 4
digital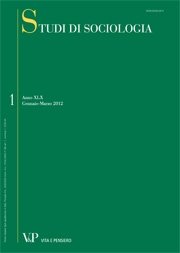 rivista
STUDI DI SOCIOLOGIA
fascicolo
4 - 2011
titolo
STUDI DI SOCIOLOGIA - 2011 - 4
editore
Vita e Pensiero
formato
Fascicolo digitale |

Pdf
Ebook in formato Pdf leggibile su questi device:
Saggi
Identità culturale e religiosa e libertà religiosa
di Roberto Cipriani
pagine: 21
€ 6,00
Abstract ∨
R. Cipriani, Religious and cultural identity and religious freedom

Each individual is guided by fundamental values that influence his behaviour. Values are deeply rooted and abstract ideas, even if they are susceptible of empirical validation. Identity is a Leitmotiv of the phenomenology of values. It is through values that people identify themselves in a movement, a religion, a political party or an ideological faith. A recurrent distinction concerns the difference between applied values and final values, therefore between values concerning individual practices and values which represent real goals to achieve. But the discussion is still open on which are the universal values. Especially the discussion tends to slip onto a juxtaposition of universal values and universal rights, which is to say between human values and human rights.

Keywords: identity, freedom, values, socialization, religion.
Note e commenti
Sans rêve et sans merci. Il sacro oggi
di Martino Doni, Stefano Tomelleri
pagine: 14
€ 6,00
Abstract ∨
M. Doni - S. Tomelleri, Without Dreams and Without Mercy: The Sacred Today

This article deals with an old subject through a new approach. The old topic, maybe one of the most typical and peculiar in the social sciences, is the sacred; the new approach is represented by the intent to invert the modern (weberian) process of secularization. If Modernity is to be defined as a process of slow, inexorable removal from the holy foundation of the social bound, «post-modernity» (whatever it means) marks a kind of «return to the sacred» not in the sense of a collective conversion to the oldest forms of religious devotion, but, on the contrary, in the sense of a social «sacrifice» of what could be considered the last, most important and disturbing sphere of social attraction and affection: the consumerism.

Keywords: capitalism, consumption, devotion/conversion, emotion, sacred.
Transnazionalismo e percorsi familiari: profilo di genere e di generazione a confronto nell'immaginazione ecuadoriana
di P. Boccagni, F. Lagomarsino
pagine: 20
€ 6,00
Abstract ∨
P. Boccagni - F. Lagomarsino, Migrant transnationalism and family trajectories: Comparing gender and generational profiles in Ecuadorian migration

This article, which builds on our research on Ecuadorian migration, approaches migrant transnationalism in a relatively understudied perspective: the dependence of migrants' crossborder ties on their family and individual life trajectories. Differences in life course, as well as in gender and generations, remarkably affect the changing strength and prevalence of migrant transnational practices. We will make this argument by discussing a variety of ideal-typical migrant profiles that have emerged from our fieldwork – namely female early migrants, minors that left Ecuador at a later stage via family reunification (a «1.5» generation) and families that reconstituted themselves in the immigration life context. By comparing these «profiles» through a transnational optic, we will provide an answer to two main questions: i.) to what extent, and how, do generation differences and life transitions account for migrants' transnational engagement?, and ii) what does «Ecuador» stand for, and what does it entail, at each of the different steps of one's migration career? A distinction between «ascriptive» and «elective» forms of transnationalism will be sketched out at last, as a way of moving forward the sociological debate on these topics.

Keywords: transnationalism, life course, family, ecuadorian migration, Italy.
Il rischio: definizioni sociali e contesto spaziale di sviluppo
di Barbara Lucini
pagine: 22
€ 6,00
Abstract ∨
B. Lucini, The risk: social definition and spatial context of development

This contribution is arisen from an historical and sociological overview about the concept of risk, its social definitions and spatial implications. In this conceptual framework risk (natural as man made) is presented through three different ways of thinking: risk analysis, risk perception and risk communication. The attention will be focalised on the urban place in which the risk takes place: the city in the twentieth century and the megacities during the present time. Risk, whatever defined, presents different features in the spatial context of megacities according to the question of governance, housing, crisis management and its operative preparedness actions in case of changeover from risk to disaster. It seems to be an important sociological argument to understand and cope with complexity and increased exposition to various kind of risks.

Keywords: risk, risk analysis, risk perception, urban space, megacities.