STUDI DI SOCIOLOGIA - 2008 - 4
digital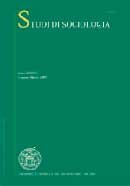 rivista
STUDI DI SOCIOLOGIA
fascicolo
4 - 2008
titolo
STUDI DI SOCIOLOGIA - 2008 - 4
editore
Vita e Pensiero
formato
Fascicolo digitale |

Pdf
Ebook in formato Pdf leggibile su questi device:
Saggi
Sviluppi negli studi della distanza sociale
di Enrico M. Tacchi
pagine: 21
€ 6,00
Abstract ∨
Social distance is a persistent topic in the history of human sciences. In Italy, theoretical studies on this subject have been recently published (Cesareo 2007). Therefore, the aim of this article is to offer only a few complementary suggestions. First of all, some references to social distance in common sense and literary language (as we can see in novels of various countries) are explored. Secondly, the historical and scientific research frame in which Bogardus experimented his social distance scale is outlined, as well as some subsequent international studies on social distance between different ethnic groups. Thirdly, the article considers both qualitative or micro-sociological research (Goffman 1959; 2002; 2008, Doxiadis 1968, Watson 1972) and macro-issues, such as social stratification or intercultural processes. Last, some recent analyses based on computational models are mentioned, such as Schelling's models of spatial segregation (1969, 1971).
Salute: persona e relazione
di Tullia Saccheri
pagine: 17
€ 6,00
Abstract ∨
In contemporary west society, the individual-person, as Modernity defines the subject lives its laceration between an instrumental function preservation of its own existence, which is designed to produce tradition relational patterns, and the possibility to understand itself as a «strong subject» to this homologation, which has the capacity to point its own action towards acknowledgement request of those identitary relationships, made to safeguard subjects- persons autonomy. Subjectivities, distinguished into instrumental-rational world and communitary-netlike one, are looking for a highlighting, also institutional, as subjects-persons of collective-action and as interlocutors. And in this new scenery, person wellness constrains to a development of reflections, concerning, at a macro level and in relational terms, welfare and health and life quality public interventions systems, while, at a micro level, interpersonal relationships pertain to processes of healing and care. In this work I mean to make a reflection on the transformation of relation idea both into sanitary service dimension and into health one.
Note e commenti
Istituzioni comunitarie e società civile nel processo di Europe building
di Fabio Introini
pagine: 13
€ 6,00
Abstract ∨
Europe building process is a key factor in the future of societies that take part or will take part in it. First of all, Europe building is the attempt to cast politics beyond what Beck and Grande call «methodological nationalism» and, besides, it is a social lab unprecedented in our history. Despite of its relevance, social sciences and the media don't give to Europe the due attention. This article gives an account of a wider research that analyzed Europe building from the perspective of the relationship between EU insitutions and organized transnational civil society. This dialogue is very worthy for EU institutions themselves because is considered the best way to create a Europe that goes beyond economical integration and that will be able to offer to its citizens identity, sense of belonging and social solidarity.
Analisi computer-assistita di materiale qualitativo: un approccio attraverso gli ausili informatici più comuni
di Albertina Pretto
pagine: 19
€ 6,00
Abstract ∨
This article aims to present a short digression, without claim for completeness, about drawbacks and benefits connected to the use of CAQDAS (Computer Assisted Qualitative Data Analysis Softwares) for the analysis of facts and figures from biographic interviews. Moreover, these options could be applied as well for the analysis of different qualitative data source. According to our opinion, and unlike the claims by some authors, the analysis of this kind of material can not be considered scientifically viable just because performed with special software. Then, we explained some simple tools (word processor and indexing system) which can be found in different operating systems, to be used alongside or as alternative to CAQDAS for the analysis of qualitative data.