STUDI DI SOCIOLOGIA - 2008 - 3
digital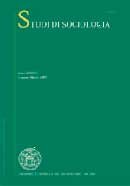 rivista
STUDI DI SOCIOLOGIA
fascicolo
3 - 2008
titolo
STUDI DI SOCIOLOGIA - 2008 - 3
editore
Vita e Pensiero
formato
Fascicolo digitale |

Pdf
Ebook in formato Pdf leggibile su questi device:
Sommario
Saggi
Sviluppo locale e progettazione sociale. Dal paradigma illuminista alla partecipazione relazionale
di Gabriele Di Francesco
pagine: 26
€ 6,00
Abstract ∨
The themes of local growth and social planning, always the centre of sociological reflection and research, are tackled in diachronic perspective through theoretical and methodological considerations and explanatory examples that, beginning from the Enlightenment paradigm, succeed to outline the existing and potential planning scenarios, connected to relational patterns of participation in management. The essay proposes different social-historical analysis, related to the origin and the development of local communities on territory, and it tries to explain them, combining their creation, the most of time utopian, with the social planning processes. In this context the sociologist is qualified as a professional researcher who participates to planning, indispensable in identifying and describing meaningful leading indicators of development process in their relational evolution.
Contributi
Che cosa è una Festa. Feste di primavera in Europa (I)
di Antonella Caforio
pagine: 24
€ 6,00
Abstract ∨
Festive time has many significant meanings in European traditions: the observation of the cosmos and of cycle of human life, the need for identity and the renewal of the social pact among living individuals. Festive time is therefore a traditional institution in which the community periodically celebrates its desire of unity and happiness.
Il problema dell'ordine sociale in Talcott Parsons e Harold Garfinkel
di Isabella Crespi
pagine: 23
€ 6,00
Abstract ∨
The issue of social order, how and why it is that social orders exists at all, is historically central to sociology. In this paper the focus is on the comparison between Parsons' and Garfinkel's point of view. Parsons regards social order as the outcome of value consensus in society, which ensures that behavior conforms to generally accepted norms. Garfinkel starts out with the assumption that social order is illusory. They believe that social life merely appears to be orderly; in reality it is potentially chaotic. Social order is constructed in the minds of social actors as society confronts the individual as a series of sense impressions and experiences which she or he must somehow organize into a coherent pattern. The differences seem to be less looking at the concept of social order and trust together as a common theoretical outcome.
L'analisi di materiale biografico: approcci metodologici
di Albertina Pretto
pagine: 23
€ 6,00
Abstract ∨
This article aims to provide a short digression, without claims for completness, about different opportunities of analysing the material coming from biographic interviews. Of course these possibilities of analysis could be also applied to other material of qualitative kind. Therefore we have tried to provide an epistemological overview of the methods more frequently used in this field. Furthermore, we have tried to give some specific examples, as far as possible, about the techniques adopted in each method, with a critical review.