STUDI DI SOCIOLOGIA - 2006 - 2
digital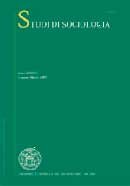 rivista
STUDI DI SOCIOLOGIA
fascicolo
2 - 2006
titolo
STUDI DI SOCIOLOGIA - 2006 - 2
editore
Vita e Pensiero
formato
Fascicolo digitale |

Pdf
Ebook in formato Pdf leggibile su questi device:
Intervista
La sociologia nel 21° secolo
di John B. Thompson
pagine: 36
€ 6,00
Saggi
Disoccupazione e società: nuovi significati e nuovi profili nell'epoca della flessibilità
di Tiziano Dorandi
pagine: 26
€ 6,00
Abstract ∨
With the end of modern society, new issues arise and link to unemployment: the growing instability that brings about (and entwine with) uncertainty and modifies the relationship subject-society; new inequalities and new terms of social protection; the elements of integration and social bonds that are under discussion and ask the subject new types of responsibility in and towards the society. The article aims at analysing unemployment with reference to social change by discussing its new characters and defining the new work-life balances which are under construction at individual and societal level.
Note e commenti
Comunicazione interculturale e analisi sociologica: come e perché?
di Claudio Baraldi
pagine: 26
€ 6,00
Abstract ∨
This essay concerns some new concepts that can help sociological theory interpret globalisation and multicultural societies. Its key-concept is intercultural communication, largely used in communication studies, studies on intercultural relationships, and linguistics. The essay proposes an integration of a sociological theory of communication with some of these studies, explaining and analysing the different forms of intercultural communication which can give a more precise meaning to the processes of globalisation and to multicultural contexts. The historical background of these processes and contexts is the expansion of modern European society, which is interpreted as functionally differentiated, following Luhmann's social systems theory. In contrast with the dominant forms of ethnocentrism which have continuously shaped intercultural communications between the functionally differentiated European society and the other societies in the world, new theories propose a form of intercultural dialogue. The meaning of such a dialogue is defined in two versions, transcultural and cosmopolitan: the comparison between these versions enlightens their different features and problems. Finally, the reasons for a sociological interest in these theories are discussed, with reference to explanations of globalisation and multicultural society.
Oltre il Panopticon? Foucault e la videosorveglianza
di Chiara Fonio
pagine: 10
€ 6,00
Abstract ∨
Foucault's figure of the Panopticon has exercised a considerable influence over the surveillance studies in the past decades. The article explores, both theoretically and empirically, the applicability of the Foucault's Panopticon to the practices of public video surveillance. In particular, the paper aims to understand if the metaphor of the Panopticon is still useful to explain contemporary surveillance.
Amici per guarire: i Gruppi Anonimi dei 12 Passi
di Albertina Pretto
pagine: 36
€ 6,00
Abstract ∨
This article presents a case study that considers a particular self-help mutual-aid group: Alcoholics Anonymous. On the empirical level, the research is conducted through the partecipant observation method. Starting from a briefanalysis of these types of associations, both from the point of view of their evolution and from the point of view of the sociologists, the author tries to analyse how the Twelve Steps groups specifically work and what their cure method consists of. This study aims at demonstrating how the recovery method used in these groups (and in general in all groups that use Twelve Step Programs) could be considered, to every extent, an effective alternative therapy.