STUDI DI SOCIOLOGIA - 2003 - 1
digital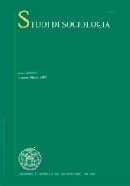 rivista
STUDI DI SOCIOLOGIA
fascicolo
1 - 2003
titolo
STUDI DI SOCIOLOGIA - 2003 - 1
editore
Vita e Pensiero
formato
Fascicolo digitale |

Pdf
Ebook in formato Pdf leggibile su questi device:
Saggi
In ricordo di Francesco Pardi
di Vincenzo Cesareo
pagine: 2
€ 6,00
Il concetto di persona nella società complessa
di Francesco Pardi
pagine: 10
€ 6,00
Abstract ∨
The article identifies a paradox in the concept of person and in its use. Modernity, and the liberation from the logic of status, should have brought about the ultimate consolidation of the idea of personal value. On the contrary it caused such a drastic functional differentiation within society that the individual has come to be defined by his/her function (citizen, economic actor, etc.) rather than as the single bearer of different roles. The concept of person has thus become an expression to identify only the communicative aspect of social life. That is the reason why in our complex society the concept of person cannot find a proper location and comes to the fore only when the other codes fail.
Temi in discussione
Il genere tra cultura e educazione
di Elena Besozzi
pagine: 6
€ 6,00
Abstract ∨
The article focuses on gender differences, by highlighting the connection between biology and culture, on one hand, and gender, culture and education on the other. These all are very relevant themes to understand gender differences and the attempts to neutralise them.
Discorsi sul genere: alle radici della differenza
di Lucia Ruggerone
pagine: 19
€ 6,00
Abstract ∨
In dealing with the problem of gender difference, the article extends a mainly sociological perspective to include some contributions drawn from the field of psychoanalysis. In particular some feminist psychoanalytic theories are examined in order to present explanations of gender difference which trace them back to very early phases of child development. These theories also include accounts for the commonsense view of women as better suited to play caring roles both in the private and public spheres of society. In the second part psychoanalytic theories of identity are discussed against the background of a changing social context. Recent sociological theories on the network society suggest different evaluation of the role of women; in particular their ability to relate can no longer be considered a sign of weakness; on the contrary it emerges as a positive and strong means of empowerment in the private, public and economic worlds.
Donne e multiculturalismo: il valore della differenza
di Carla Lunghi
pagine: 26
€ 6,00
Abstract ∨
Ethnic, gender and cultural differences represent, for western society, not only a challenge for its social unity and identity but also an opportunity to debate and to cultural enrichment. Feminism and multiculturalism picked up this challenge producing new contributions on behalf on cultural differences. But if in the Seventies these two movements were allied in the struggle for recognition of diversity, now they are like enemies for several reasons. Firstly western feminism was accused of ethnocentrism by asian and african women movements: the effect was a weakening of struggle for equal rights as men. Secondly multiculturalism has forgotten the specific topic of gender and defended some culture that are internally patriarchal. Now the relationship between feminism and multiculturalism is more complicated by the strong presence of immigrant women in western societies. The article shows the critical stages of this debate, pointing out the likely and positive opportunity included in the recognition of social and cultural differences.
Donne e pratiche di mediazione interculturale
di Laura Mentasti
pagine: 20
€ 6,00
Abstract ∨
In the essay, the value of the practices of intercultural mediation that women put into effect is analyzed. Gender belonging proves to be an important resource for the dialog among cultures. It is also able to overcome the obstacles that come from a concept where the cultural belongings and the identities are seen as strict and unchangeable. First of all, the experiences of the international meetings of female groups and associations are examined. These experiences have allowed the identification, beside the differences, also of the common elements that characterize the female condition in each part of the world. Also analyzed is the role of 'bridge' among cultures that the women immigrants play, when they try to find elements of connection and of possible living together among the host world and the world of origin. Finally, the results of a research realized among women immigrants and native-born, who are occupied with intercultural matters, are briefly presented.
Differenze di genere nella formazione
di Maddalena Colombo
pagine: 26
€ 6,00
Abstract ∨
This essay is focused on gender differentiation processes in education, with specific regards to the issue of inequality in educational attainment. After a brief review of the main sociological approaches (functionalism and conflictualism), the article moves to describe recent findings on the issue emerging from field studies, both in developed and developing countries. Then it considers how socialization processes are affected by gender stereotypes, mainly through the adult-child interaction and pair group dynamics. Some basic differences between females and males in scholarship are underlined, such as, the higher attainment scores achieved by females, the higher levels of attention reserved from teachers to male students; the persistence of sexism expressions in pair relations at school. A rising issue is put under focus by interactionist approach: everyday practices in teaching and learning usually do not take into account the student's and the teacher's gender. In addition to that, there is a new challenge emerging from globalization and pluralization processes: the combination between gender and ethnical differences will create new agents and new issues in educational resources distribution. A short look to recent inquires shows as foreign students are now facing both inequality (like gender-race gap) and differentiation dynamics (like diversity in motivation for studying).