Istituzioni, multiculturalismo e costruzione dell'identità europea. Verso un'impossibile intesa?
digital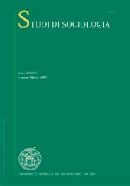 Ebook in formato Pdf leggibile su questi device:
The historical events which marked the last decades process toward an effective European Union give many suggestions to understand the role of the institutions in order to build a large integration among political and social actors, their interests and cultures, i.e. three conditions so that european identity may be acknowledged. The identity acknowledgement arises from a permanent negotiation among many social actors, in the same time it assures the legitimation to the institutions themselves. The theoretical and practical issues connected to this circular process are examined in relation with a specific Preambulum devoted to a solemn definition of cultural and religious origins of Europe. The insuccessfull acknoledgement of the cristian root of Europe is considered as a symbolic question which reveals deeper dilemmas in the present European theoretical debate on identity, pluralism, multiculturalism, tolerance. This symbolic question is re-examined throught the idea of civil religion, communitarism, multiculturalism, suggesting the need of new intercultural approaches. Finally, the attitudes toward the so called "Social Europe" are considered, in order to verify how some political and economical goals – as development and equity – may help the construction of the european identity.
Consulta l'archivio
Ultimi 3 numeri
Annate disponibili online
Fascicoli anno
2006