Risultati della ricerca
Modelli locali di welfare educativo e disuguaglianze tra le classi sociali nell'accesso all'Università
digital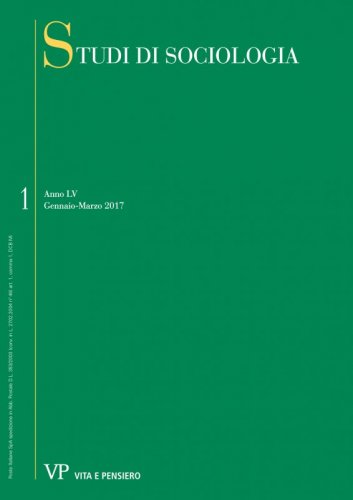 formato:
Articolo
| STUDI DI SOCIOLOGIA - 2017 - 1
| anno: 2017
| numero: 1
Starting from the social investment paradigm, this essay aims to analyze the territorial articulation of educational welfare in Italy and its influence on relative schooling inequalities in higher education attendance. A model of educational welfare that invests more in education provides higher rates of school attendance and lower educational stratification among young people, but this model is not always effective in contrasting relative schooling inequalities...
Una politica dopo i distretti: metamorfosi di un modello di capitalismo
digital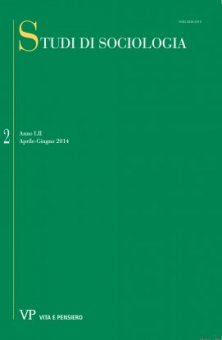 formato:
Articolo
| STUDI DI SOCIOLOGIA - 2014 - 2
| anno: 2014
| numero: 2
The article focuses on the Italian manufacturing sector features after the «ventennio infelice» (twenty years of economic and industrial long term slowdown) 1990-2010...
"Regioni che apprendono": luoghi per l'apprendimento permanente e lo scambio di conoscenza
digital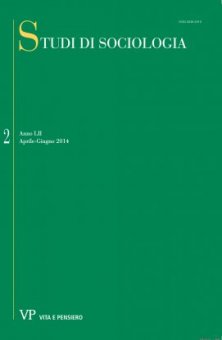 formato:
Articolo
| STUDI DI SOCIOLOGIA - 2014 - 2
| anno: 2014
| numero: 2
In recent years many territories have understood that an economy and a more prosperous future depend on the growth of human and social capital available to them internally. Many local authorities are thinking and creating plans and strategies to promote personal growth...
"Raccontami delle tue vacanze": un caso di studio tra giovani turisti sostenibili
digital

formato:
Articolo
| STUDI DI SOCIOLOGIA - 2014 - 1
| anno: 2014
| numero: 1
A number of studies, in a range of disciplines, have tried to identify the variables and parameters most useful for establishing the essential characteristics of the sustainable tourist...
Donne, doni e cibi rituali nel rito nuziale barbaricino
digital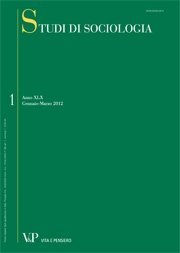 formato:
Articolo
| STUDI DI SOCIOLOGIA - 2013 - 1
| anno: 2013
| numero: 1
This two-year study is currently being undertaken in Barbagia. Through local mediators, we have found groups of people in every community who have agreed to be interviewed about their own weddings. For every community or village, an average of six accounts have been recorded. The mediators were asked to find people of varying ages, without specifying gender. The interviews have been carried out by partially structured interviews and recorded digitally. From the start, it has been clear that marriage is strongly understood to be the business of the female side of society: for all, marriage is «a woman's affair». From the initial examination of the material, three elements appear fundamental for the analysis of the rite of marriage: the role of the woman in the relationship between families and the relationships within their own family, the role of gifts and the presence of ritual foods.
L'interazione quotidiana con l'altro. Le donne migranti e il lavoro di cura
digital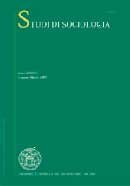 formato:
Articolo
| STUDI DI SOCIOLOGIA - 2007 - 4
| anno: 2007
| numero: 4
In Italy many immigrant women work in domestic services and they replace the role of Italian women not only in typical domestic chores but also in taking care of the elderly and people with disabilities. This article explores the relation between immigrant women and aged people whom they take care of, starting from the point that in everyday life the social distance between Italian and immigrants could become shorter and shorter. The research is based on indeep interviews to immigrant domestic workers who work and live with Italian aged people. Referring to E. Goffman, the focus is on the organization of setting inside the house, the invasion of territories of the Self, the type of communication and the language used, the existence of a stage and a backstage. The findings point out that immigrant women enter into a close relation with the Italian elderly: they become a sort of family member and they get involved in a relation which is outside of the domestic work and which implies a high level of empathy.
Sviluppo locale e progettazione sociale. Dal paradigma illuminista alla partecipazione relazionale
digital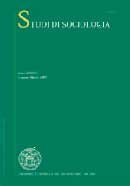 formato:
Articolo
| STUDI DI SOCIOLOGIA - 2008 - 3
| anno: 2008
| numero: 3
The themes of local growth and social planning, always the centre of sociological reflection and research, are tackled in diachronic perspective through theoretical and methodological considerations and explanatory examples that, beginning from the Enlightenment paradigm, succeed to outline the existing and potential planning scenarios, connected to relational patterns of participation in management. The essay proposes different social-historical analysis, related to the origin and the development of local communities on territory, and it tries to explain them, combining their creation, the most of time utopian, with the social planning processes. In this context the sociologist is qualified as a professional researcher who participates to planning, indispensable in identifying and describing meaningful leading indicators of development process in their relational evolution.
Prospettive euroregionali per il futuro della governance dei territori italiani transfrontalieri
digital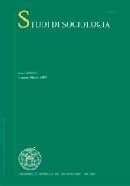 formato:
Articolo
| STUDI DI SOCIOLOGIA - 2009 - 4
| anno: 2009
| numero: 4
This article focuses on the most meaningful aspects of a research aimed at the analysis of the state of the art of cross-border cooperation in Europe – through qualitative systems and analysis of quantitative data in fifty-three European border areas – taking into account actors, shapes and objectives with a particular attention to the Euroregional process. The research hypothesis is that putting into action mechanisms of cross-border welfare systems, organized in Euroregional structures, can be the basis not only for the elaboration of an original model for local development, which can be applied in areas influenced by a border, but also for legitimating more strongly the cross-border dimension of integration, on a cultural, economic and institutional level. The article is divided into two parts. The first part aims at providing a theoretical framework on the concept of border, crossborder cooperation and Euroregion, subsequently developing them through the analysis and evaluation of cross-border cooperation in Europe, with a particular attention to Euroregional variables. The second part concerns the concepts of local development and welfare, overlapping them, with the aim of setting them within a strict cross-border dimension and so to understand those factors which allow for their development. The model for such a cross-border welfare system was applied to the Italian-Slovenian cross-border context, analysed in terms of the quality of its cooperative process, of the Euroregional prospects, of the cross-border third sector, and of the development of institutionalised cooperation in the context of cross-border health care. Key words: cross-border cooperation, Euroregions, cross-border welfare System.
Achille Ardigò e la sociologia del territorio
digital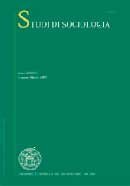 formato:
Articolo
| STUDI DI SOCIOLOGIA - 2010 - 2
| anno: 2010
| numero: 2
G. PISI, Achille Ardigò and the Sociology of the territory. My contribution focuses on three books: Female emancipation and urbanism, The metropolitan area and The urban spread. My aim is stressing the intellectual path of Achille Ardigò, who shifted from rural Sociology to urban Sociology. Female emancipation is considered in its several elements, and all of them are connected to urbanism; in particular, the movements from rural to urban areas are mentioned. Some elements from the Ecological Chicago School and the Talcott Parsons' theory are used as tools to deal with urbanization and urban spread trends, which were studied by Ardigò since the middle of the 1960s. Some concepts like Dominance and Planning are considered too; Ardigò used them to face the emergencies of the metropolitan area as a social system: in this case, Parsons' functional prerequisites are used as a «compass» to define such concepts, and to combine theory and empirical research. Key words: female emancipation, Talcott parson's theories, metropolitan area, dominance, planning.
La (non) quantificazione nello studio della società. Indicatori sociali tra controllo sociale e partecipazione democratica
digital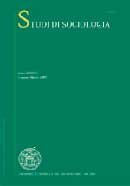 formato:
Articolo
| STUDI DI SOCIOLOGIA - 2010 - 3
| anno: 2010
| numero: 3
P. PARRA SAIANI, The (non) quantification in the study of society. Social indicators between social control and democratic participation The social indicators movement seems to be regaining its appeal. It was an heir to the supporters of quantification in the Social Sciences, as numbers were believed to be objective and scientific per se. Echoing the London Statistical Society's policy that was declared two decades earlier, the newly created Statistical Society of Paris resolved in 1860 that «statistics is nothing else than the knowledge of the science of facts». It was, their statutes continued, an indispensable science for a liberal state: «It ought to provide the basis upon which society is governed». But the aspiration to know the territory was not always the simple thirst for knowledge: initial attempts were conducted by governments to carry out a policy of control and taxation. Only in the mid-18th century did many initiatives flourish. These concerned the collection of information in a more democratic spirit: information was now considered to be a citizen's right. The study of society in its various dimensions has stimulated the search for and construction of statistical indicators and indices. The search for a better way of studying the progress of societies has often led to inappropriate uses of indicators and measures. GNP, for example, has been commonly considered to be an indicator of wellbeing. The lack of a conceptual frame for studying well-being is not the only problem, nor even the greatest. Of similar importance are the meagre statistical skills of journalists and policy-makers. All together, these elements facilitate limiting the use of data in public debate. In this paper, I will consider the shift from political arithmetic to modern social reports (par. 1); the success of quantification in the Social Sciences (par. 2); the use of quantification (par. 3); the validity of official statistics (par. 4); the current non-use of quantification and the search for contextual conditions that interfere with the transformation of information into knowledge (par. 5). Key words: social indicators, policy, democracy, quantification, well-being, knowledge.
Riflessioni in merito all'utilità della convergenza tra sociologia e storia
digital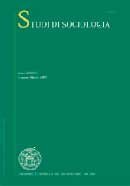 formato:
Articolo
| STUDI DI SOCIOLOGIA - 2011 - 1
| anno: 2011
| numero: 1
G. GILARDONI, Reasoning on the value of convergence between sociology and history. In order to better understand social reality phenomena the convergence of more perspectives should be adopted. Possible convergences between sociology and history are herein represented by the recall of some factual interconnections and mutual integrations which occurred and correlations implemented from methodological reasoning. The case study proposed regards the Freedom Rides, an episode of the Civil Rights Movement during the struggle against segregation. Racial segregation is first explored at its beginning through historical direct sources and historiography as a way to re-establish the previous privilege of whites after slavery had been abolished. It is then observed from a sociological point of view, specifically from the Social Limits to Growth by F. Hirsch. His work, although not directly referring to historical events and social phenomena considered, has provided an illuminating key of interpretation, revealing how segregation has functioned as a effective device which partially stemmed the progressive erosion of the satisfaction connected to consumptions experienced during the economic boom of the Sixties. This article thus proposes a concrete example of how sociology and history can usefully converge for a better understanding. Key words: Sociology, history, racial segregation, social limits to growth.
Ultrastabilità e indifferenza. Centri e periferie nella società moderna
digital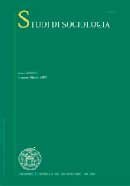 formato:
Articolo
| STUDI DI SOCIOLOGIA - 2005 - 1
| anno: 2005
| numero: 1
Contemporary society is often described in terms of regional inequalities in addition to distinctions such as development/underdevelopment or modern/traditional. These territorial differences, however evident, serve as obstacles for sociological descriptions of modernity. This paper introduces the hypothesis that every observable difference (for instance economical, political, educative or even individual) is the product of the modern societal system as a whole. Modern society, which is based on functional differentiation, is at the same time hyperintegrated and loosely coupled, totalitarian and tolerant to local deviation. In the words of the early cybernetics: it is ultrastabil. The only requirement seems to be the compatibility between local structure and the main societal structure. From this point of view, in order to observe the territorial differences of contemporary society it is crucial to choose adequate sociological distinctions. For this purpose, the current research offers distinctions like: evolution/pianification, risk/danger and inclusion/exclusion.